Stock Market Fund Inflows Return As S&P 500 Hits Technical Resistance
STOCK MARKET TALKING POINTS:
The HYG ETF also recorded its largest intraday outflow since early December, but does it mark the end of the recent trend?
FUND FLOWS BREAK DEADLOCK
Last week I discussed the deadlocked fund flows for the aggregated exchange traded funds I track despite the litany of event risk ahead. While the loaded calendar was somewhat underwhelming from a price action perspective, it was able to break the parity in fund flows. This week delivered a solid string of inflows for the SPY, IVV and VOO ETFs with the largest single day aggregated inflow since December 21st. The weekly net change in funds totaled nearly $5.8 billion.
AGGREGATE FUND FLOWS FOR BROAD MARKET ETFS VERSUS S&P 500 (CHART 1)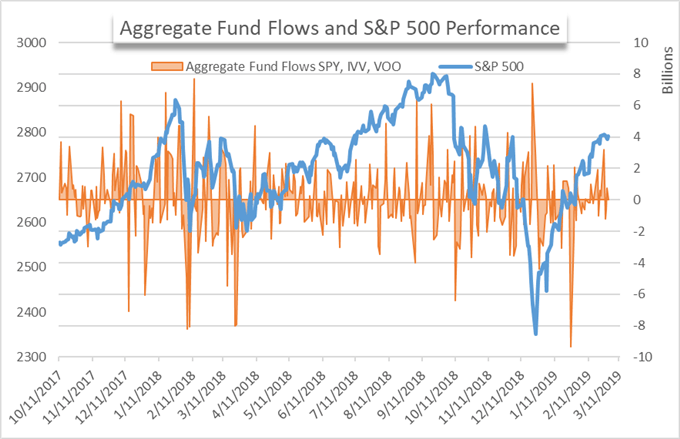 S&P 500 MEETS TECHNICAL RESISTANCE
Interestingly, the inflows came as the S&P 500 and Dow Jones traded near technical resistance in the 2,800 and 26,260 areas respectively. While the flows likely contributed to equity buoyancy amid weak data and sobering trade war comments, they proved insufficient to spur the indices past their respective technical levels.
S&P 500 PRICE CHART: 4 - HOUR TIMEFRAME (NOVEMBER 2018 TO MARCH 2019) (CHART 2)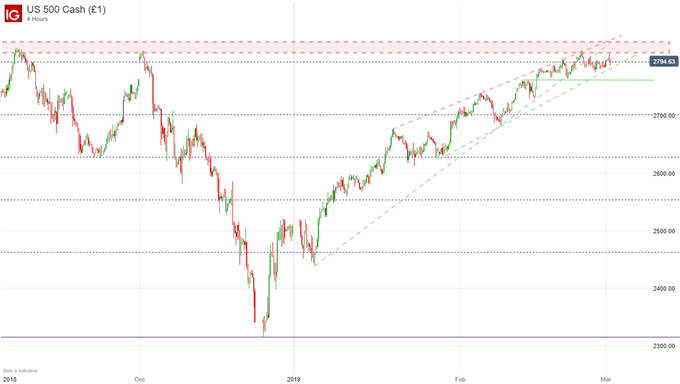 THE END OF A TREND FOR HIGH YIELD CORPORATE DEBT?
While broad-market ETFs were heavily sought after this week, a recent favorite in HYG saw a change of pace. The HYG ETF, which recorded $1.3 billion in net inflows for 2019 so far, saw its largest intraday outflow since December 20th this week when $807 million exited the fund. The outflow is in stark contrast to the recent trend for high yield corporate debt. The bigger question is whether this is the end of the recent trend, or just an anomaly.
HYG ETF FUND FLOWS (CHART 3)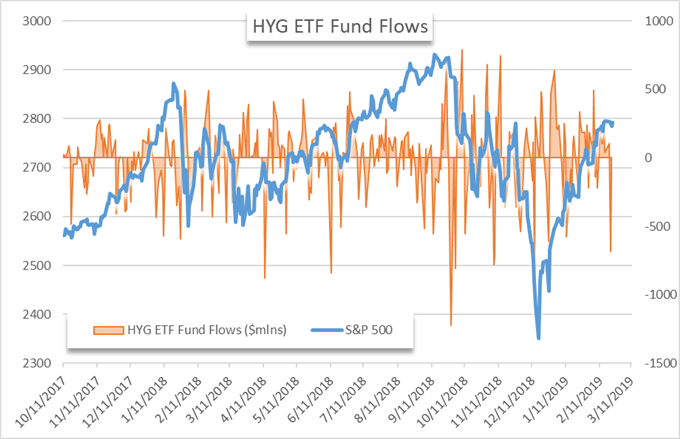 With that said, the fund flows for an ETF with underlying assets similar in nature to HYG suggest the outflow was just an outlier, or even overdone.