For Stocks, Has The "Rational Bubble" Popped?
In keeping with last week's theme, the market has mainly traded sideways this week. However, that correction I've been calling for weeks? We have potentially started.
While I don't foresee a crash like we saw last March and feel that the wheels are in motion for a healthy 2021, I still maintain that some correction before the end of Q1 could happen.
Bank of America also echoed this statement and said last week that "We expect a buyable 5-10% Q1 correction as the big 'unknowns' coincide with exuberant positioning, record equity supply, and as good as it gets' earnings revisions."
Yes, the sentiment is still positive. That won't change overnight. Vaccines seem more effective than we thought, especially against other variants of the virus. All that extra stimulus money and record low-interest rates could keep pushing stocks to more records and stimulate pent-up consumer spending. It's not like the Fed is going to switch this policy up anytime soon, either.
They don't call it a stimulus for nothing.
For weeks we've likely been in a rational bubble. Dhaval Joshi, the chief European investment strategist for BCA Research, has said that low bond yields meant the rally we've seen with stocks made sense.
"Rational, because the nosebleed valuations are justified by a fundamental driver. And not just any fundamental driver, but the most fundamental driver of all – the bond yield."
Take a look at this chart comparing a "rational bubble" to an "irrational bubble."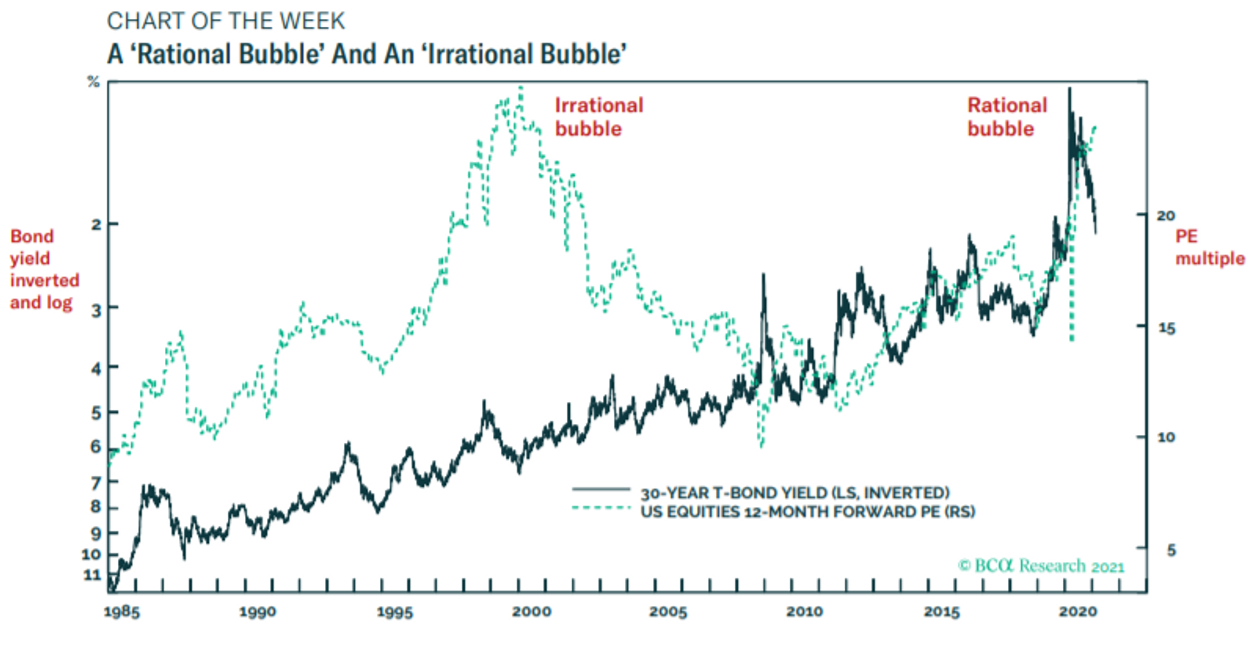 But now? Things have possibly changed. Complacency, valuations, surging bond yields, and inflation concern me.
They're all connected. But look especially into the 10-year yield. It's hovering around 1.30% for the first time in over a year.
Why is this concerning?
Rising interest rates=less attractive stocks.
Look at this other chart. Forward P/E ratios are continuing to rise along with bond yields. In high-growth sectors, such as tech, this is especially concerning. The chart shows, in fact, that tech earnings yields have now been surpassed by the bond yield plus a fixed amount.
For more of my thoughts on the market, such as the streaky S&P, inflation, and emerging market opportunities, sign up for my more