Calling A Bottom In Long Bond Yields
Since the QE3 announcement, equity markets have struggled as we approach the deadline for resolution of the tax cut and benefit extensions decided by Congress (the fiscal cliff). Fiscally, a sudden move toward balancing the budget would almost necessarily be a drag on GDP. The view of optimists is that some sort of compromise can be reached, where the effects of policies to reduce outlays and increase tax revenues can be achieved in a balanced and gradual way to avoid jolting the economy into recession.
From a trader's perspective, I would grow increasingly concerned as the deadline approaches if a deal still appears out of reach. A failure to compromise could result in a very similar scene to the debt ceiling circus of August 2011 -- causing dramatic movements lower in stocks. Either way, we know this:
The outcome will have an impact on markets.
It is an event, and probabilistic in nature.
As important as it is to accurately project odds of whether Congress is going to come to some sort of a great deal and what exactly it would entail, I will refrain, and instead focus largely on the country's ongoing monetary policy.
Federal Reserve Balance Sheet And Open Market Operation Results
As instructive as the Fed press releases can be about the general direction they wish to take their balance sheet, it is no substitute for the numbers themselves. Deciding to put Fed opacity to the test, I have been analyzing factors affecting reserve balances and their open market operations. A look at Fed assets and liabilities broken down by category, after cleaning and simplifying the data just a bit:

What surprised me about these series was that MBS held by the Federal Reserve have actually been in decline since its peak of ~$1.1T in July 2010. MBS can migrate off of the Fed balance sheet by maturing, being defeased/prepaid, or by being sold. The same conditions apply to the total amount of outstanding MBS market-wide, after replacing "being sold" with "being written-off.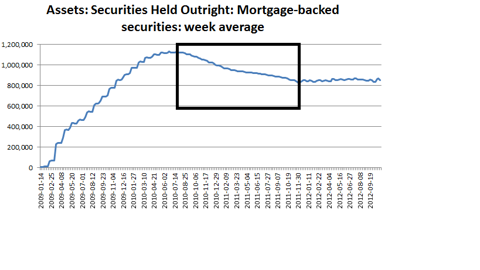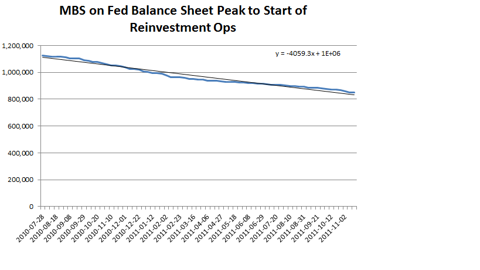 The Fed also announced incremental purchases of ~$40BN MBS in their September 13th QE3 press release. This is added to their re-investment ops related to operation twist, where they have been consistently adding between $25-$30BN in newly issued MBS over the past year. On their website, they make these purchases of government securities public, and I derive an estimate for the rate securities are migrating off the balance sheet with the open marker data in conjunction with the factors affecting reserve balances (organizing purchases by contract settlement date).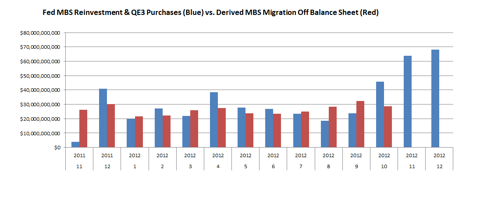 Using the Fed's recent open market data, we are able to get an estimate of the pace the Federal Reserve has actually gotten legacy MBS assets off of their balance sheet in one way or the other. Opacity prevailing, we see that the current pace of turnover is higher than that of the MBS outstanding market as a whole, suggesting that some of their legacy holdings are being sold back to the market rather than maturing or being defeased -- explaining the difference. It would, however, be nice to have a much longer time series to see if this degree of divergence in migration-off rates is simply explained by random chance. The legacy MBS should be lower quality at a loan-level, and should add incremental risk to whomever may be purchasing these MBS, despite the cash flows being federally guaranteed, for now.
Disclosure: I am long BTU, ANR via call options. I wrote this article myself, and it expresses my own opinions. I am not receiving compensation for it and I have no business relationship with any ...
more