Buy The Dip In Silver
Silver just dropped about 10% in three trading days, and some are freaking out.
I say just relax…and buy the dip.
In late November, silver was trading at $22. By January 6th, it reached $27.80, gaining an impressive 26% over just six weeks. Is this silver rally over? Not in my view. Even after dropping to around $25, it's still up by 14% since then. And it's more than double its March lows of $12.
I think this was a classic case of buy the rumor and sell the news. As we crossed from 2020 into 2021, precious metals were assessing and pricing in the outcome of a Biden confirmation and the Senate runoff.
Once those two elements were solidified, silver traders decided to sell.
With that in mind, the question now becomes: what's next for silver?
Why Silver Sold Off
Let's start with what happened. Here's my take.
Silver, like gold, rallied through December and into the start of January, anticipating increasing government control by the Democrats. I believe it peaked on January 6th, especially as confirmation of the Democrats' win in the Georgia Senate runoff was added to Biden's confirmation. It meant the Democrats would have effective control of the White House, Congress, and Senate, a likely powerful combination.
However, what it also means is that easy-money policies and fiscal stimulus are about to get an even bigger shot in the arm. As this projection suggests, Biden's programs will cause the debt to jump dramatically in relation to GDP.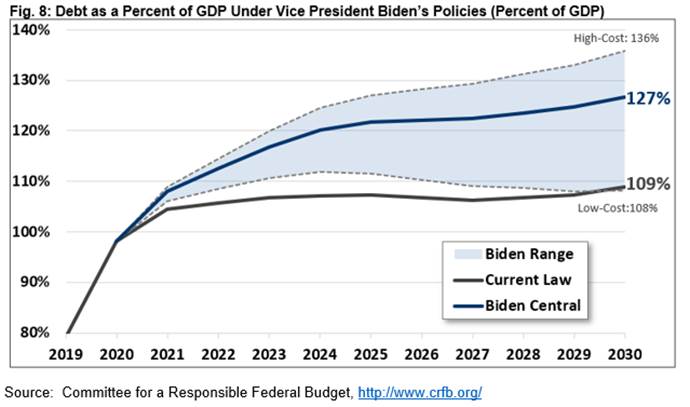 Biden has already said he believes the latest $900 billion pandemic relief package won't be enough. We'll know more this week, but it's a sure bet fiscal restraint will not make a surprise appearance anytime soon, as Biden promises his stimulus plan will cost "trillions."
I certainly hope no one reading this is shocked. But there's a market-related aspect to silver's selloff as well.
It didn't hurt that the US dollar had become very oversold.
Disclosure: I own shares in SIL