Bond Yields Drop To 234-Year Low
The 10-year Treasury bond now yields 0.5%
Last Friday, the yield on the 10-year Treasury note dropped to 0.520%. According to Deutsche Bank, that's the lowest yield in 234 years.
Whenever you see stats like this, know that someone is getting a little creative. What they're doing is splicing data from other sources to come up with a continuous look at treasury yields. Still, my data only goes back a few decades, so I'll take their word for it.
Nevertheless, these rock-bottom yields are remarkable. Think of it this way: the 10-year Treasury note now yields 5.2%, not per year, but the combined total over the life of the bond. Less than two years ago, the 10-year was yielding over 3%. As recently as 2007, the 10-year could fetch you over 5%.
Those days are gone.
What's happening now, of course, is an outgrowth of the pandemic and the related economic lockdown. It really doesn't say much about the brilliance of the governance of our finances. In fact, our government's finances are in pretty lousy shape, too.
The good news is that investors are still willing to lend Uncle Sam lots of money. When people are scared, they want to put their money in a place where they know it will be safe. Right now, that's the U.S. treasury market.
There's a bubble emerging right now, but it's not in the bond market. Rather, we're seeing fear manifesting itself as a bond market bubble.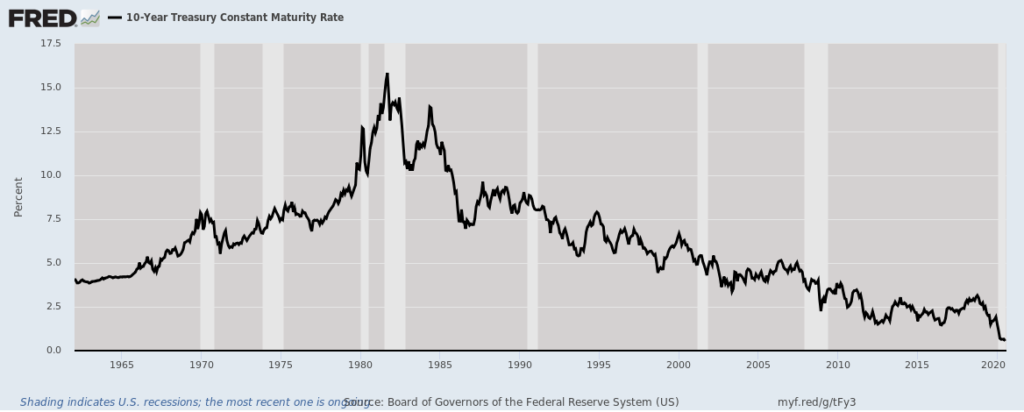 Bond yields have fallen recently, despite many "expert" predictions that yields would soon soar, or that inflation would make a dramatic comeback. After all, the government was printing so much money and putting it in people's hands… those yields had little choice but to go higher, right? Well, apparently not.
We're also in an interesting spot, with stock yields significantly above Treasury yields. I could see an argument that stocks are more volatile than bonds, so the higher yield is deserved, but is that protection really worth 150 basis points? Hmm… call me a doubter.
Disclosure: Information contained in this article and its websites maintained by Investors Alley Corp. ("Investors Alley") are provided for educational purposes only and are neither an ...
more