Bond Volatility Soars To 3 Year High
But it's not just the MOVE index: as Bank of America writes today, the recent rally in US Treasuries has drastically boosted rates vol, especially in the shorter-dated space, as the 2y10y portion of the yield curve inverted for the first time since 2007. As the bank's rates strategists said, they ultimately do expect a flatter curve than they did previously - but caution that the risk-off move is likely to revert in the short-term with the Jackson Hole Fed meeting coming up; meanwhile BofA's technical rates strategists think that Treasuries are at overbought levels.
Finally, for those who believe short-term swaps are a better representation (and instrument) of bond market volatility than the MOVE, BofA points out that 3m-1m ATM vol term structure has rarely been more inverted than it is now: currently 3m vol is 2.05% below 1m vol and in its 2nd %-ile since 2008...
(Click on image to enlarge)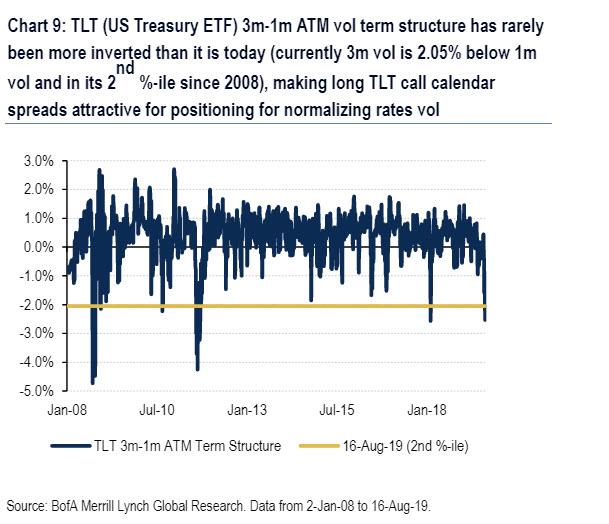 ... and as such, BofA advises traders to go long TLT call calendar spreads (selling 1m calls to buy 3m calls) as attractive for positioning for normalizing rates vol and a short-term re-steepening of the curve.
Disclosure: Copyright ©2009-2019 ZeroHedge.com/ABC Media, LTD; All Rights Reserved. Zero Hedge is intended for Mature Audiences. Familiarize yourself with our legal and use policies every ...
more