Bitcoin Reaches New Record High, Tops $20k For First Time
For the first time in its history, the price of Bitcoin has topped $20,000.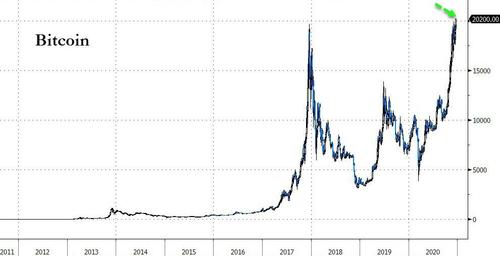 Source: Bloomberg
Increasing optimism in the last few days over a trillion-dollar-ish COVID relief bill have catalyzed this latest push higher as investors seek some non-government-dilutable store of wealth.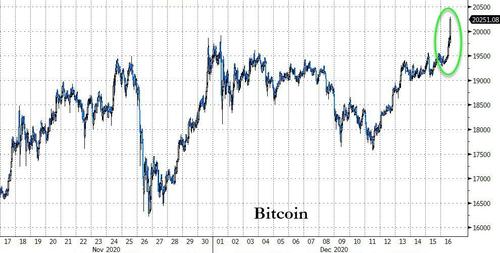 Source: Bloomberg
Bitcoin is "eating the world" thanks to 10-year returns of over 6,200,000% and annualized returns of roughly 200% per year, investment strategist Raoul Pal has said.
In a tweet on Dec. 15, Pal revisited his oft-quoted phrase as new data showed the extent of Bitcoin's outperforming of major assets.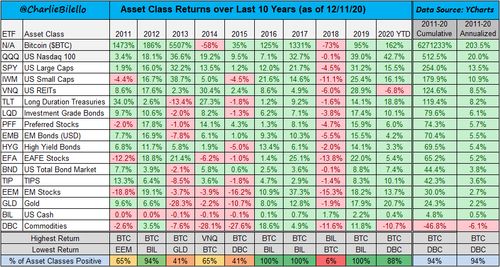 Alternatively, as CoinTelegraph notes, whether it's dollar-cost-averaging or a one-time investment of $100 10 years ago, Bitcoin dwarfs other investments such as Apple or Amazon over the past decade.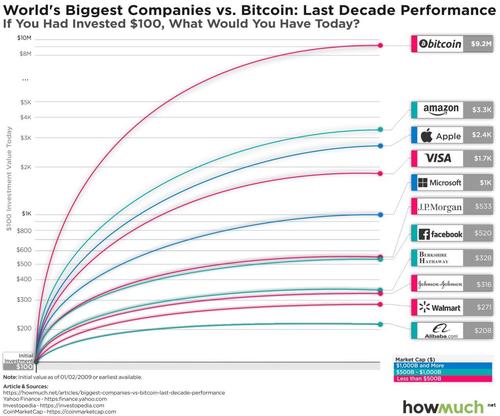 Which is perhaps why "Long Bitcoin" has become the 3rd "most crowded" trade according to BofA's Fund Manager survey: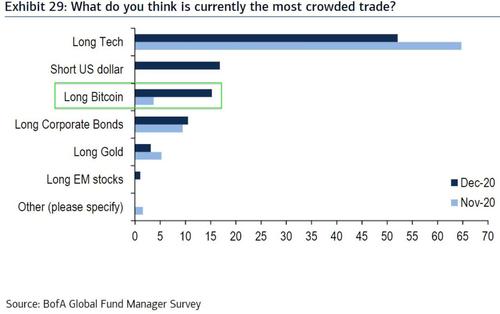 As CoinTelegraph concludes, in a year in which money printing and stimulus has triggered fears of massive inflation, the trend away from cash and into uncorrelated assets such as Bitcoin is clearly highlighted by the survey's results. Many investment managers are seriously considering Bitcoin purchases for the first time, encouraged by the example of famous investments made by MicroStrategy, Square, and Paul Tudor Jones. Following suit, insurance company MassMutual and investment manager Ruffer disclosed massive Bitcoin purchases in the last week as well.
The Bank of America survey also found the fund managers are underweight in cash for the first time since 2013, after buying a disproportionate amount of stocks, commodities, and other assets including Bitcoin over the last few months.
This is not the first time Bitcoin has appeared in Bank of America's monthly survey. In Dec. 2017, Bitcoin topped the survey's list of most crowded trades, with 32% of respondents naming Bitcoin as the "most crowded trade."
Disclaimer: Copyright ©2009-2020 ZeroHedge.com/ABC Media, LTD; All Rights Reserved. Zero Hedge is intended for Mature Audiences. Familiarize yourself with our legal and use policies every time ...
more