ArQule: Profiting From Tyrosine Kinase Inhibition
Summary
Though not exhilarating, value and growth investing usually garner outsized returns. Nonetheless, it takes time for the value of growth equity like ArQule to be unlocked.
After years of dormancy, Arqule bulls rallied to the strong clinical reporting of ARQ-531 for various blood cancers. And, I forecast that advanced trials will deliver positive results.

Time is the friend of the wonderful company, the enemy of the mediocre. - Warren Buffett
Aside from his prowess for numbers, Warren Buffett has the excellent temperament for investment. In my view, Buffett's mega success is the cumulation of his hard work and rigorous learning. With a voracious appetite for knowledge, Buffett read financial report daily in his office. The man is a learning machine. That aside, the fact that Buffett lives in the golden land of opportunity also helps him grow Berkshire Hathaway (BRK-A, BRK-B) to become a multibillion-dollars franchise.

In following the footsteps on the giant Buffett, I made it a habit to exercise my due diligence by researching every day and periodically reviewing my investment thesis. This learning process reinforces my growth and value investing approach that is adapted specifically for the life science industry. Over the years, I'm convinced that the Buffett wisdom - time being on your side when you hold a fundamentally sound stock - is true.

As such, my pick on the oncology innovator ArQule (ARQL) exemplifies the Oracle's teaching.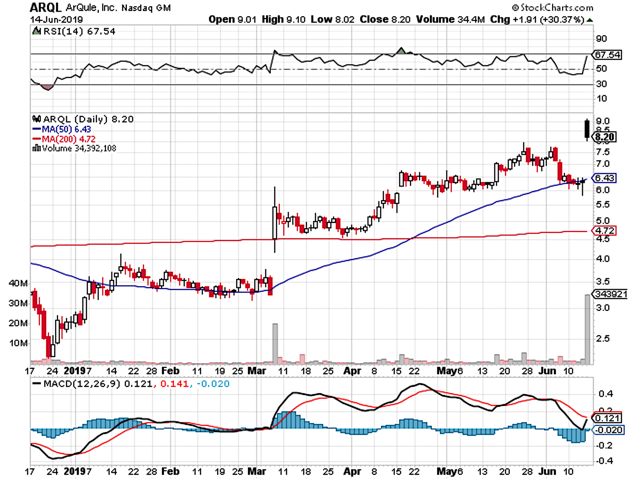 Figure 1: Arqule stock chart. (Source: StockCharts)
From 2016 to early 2018, the shares were trading at a depressed level, around $1.5 per share. During the time, I realized that there is much room for growth ahead due to the quality of its molecules. And, I was even more excited because ArQule was undergoing a period of market unpopularity. Consequently, it enabled the stock to trade at a deep bargain to its true worth or intrinsic value as Buffett calls it. In just over a year, ArQule has appreciated over 37%. Despite the modest gains, the best is yet to come. In this article, I'll present a fundamental analysis of ArQule and provide my expectation on this young grower.
Disclosure: As a medical doctor/market expert, Dr. Tran is not a registered investment advisor. Despite that we strive to provide the most accurate information, we neither guarantee the accuracy nor ...
more