4 Easter-Themed Stocks For Your Portfolio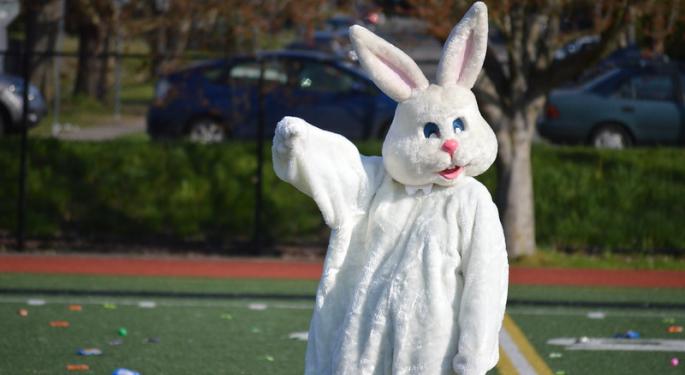 Photo by Devlin Donnely / Flickr Creative Commons
Easter is just around the proverbial corner, and the holiday means a great many things to different people. For investors, Easter offers the chance to take a second look at companies that traditionally enjoy an increase in holiday-related product sales.
Let's consider four stocks that have a distinctive connection to the Easter holiday.
Hershey Co (HSY): Easter is the second most important candy-eating occasion of the year, according to the National Confectioner's Association, and the Hershey brand is perennially popular during this season. And it seems that investors also have a sweet tooth for the company: Two weeks ago, Piper Sandler analyst Michael Lavery upgraded Hershey's stock rating from Neutral to Overweight with a price target lifted from $147 to $175.
What was the cause for this upgrade? Well, the U.S. retail sales grew 7.5% from the start of 2021 through March 7, and Hershey is on track to exceed prior estimates of 2% U.S. organic growth for the first quarter — though, ironically, this outlook depends on the timing of Easter purchases.
At last check, Hershey was trading at $157.55 closer to its 52-week high of $161.71 than to its 52-week low of $125.50.
1-800Flowers.Com Inc. (FLWS): Flowers are among the colorful Easter gifts, and 1-800Flowers.com is one of the major go-to sources for floral offerings.
Along with its brand name, the company also owns other e-commerce operations including Harry & David, Personalization Mall, Shari's Berries, Fruit Bouquets, and The Popcorn Factory.
1-800Flowers.com is coming off a very strong Q2 FY2021 with record revenue of $877.3 million, up 44.8% year-over-year to $877.3 million. And the company appears to have navigated the pandemic as second-quarter results were the seventh consecutive quarter of vibrant revenue growth.
"Strong e-commerce growth, combined with excellent operational execution enabled us to drive record adjusted EBITDA and EPS results despite the significant headwinds that we faced in the year-end holiday period, including what we're all familiar with the increased labor and product shipping costs, as well as operating inefficiencies related to the ongoing pandemic," said CEO Chris McCann stated.
© 2021 Benzinga.com. Benzinga does not provide investment advice. All rights reserved.