Cryptocurrency hedge fund index generates positive alpha
It's no secret that hardcore crypto fans have had a tough time this year. The bitcoin price was down nearly 50% through August, while the ethereum price was down almost 62%. The passive 80/20 BTC/ETH portfolio compiled by Eurekahedge has lost more than 60% through the end of August. However, looking at the risk returns of each of the four options, we start to see why cryptocurrency hedge funds are generally a safer way to invest in bitcoin and ethereum.

Interestingly, Eurekahedge found that cryptocurrency hedge funds generated positive alpha against all three of the benchmarks over most of the last two years.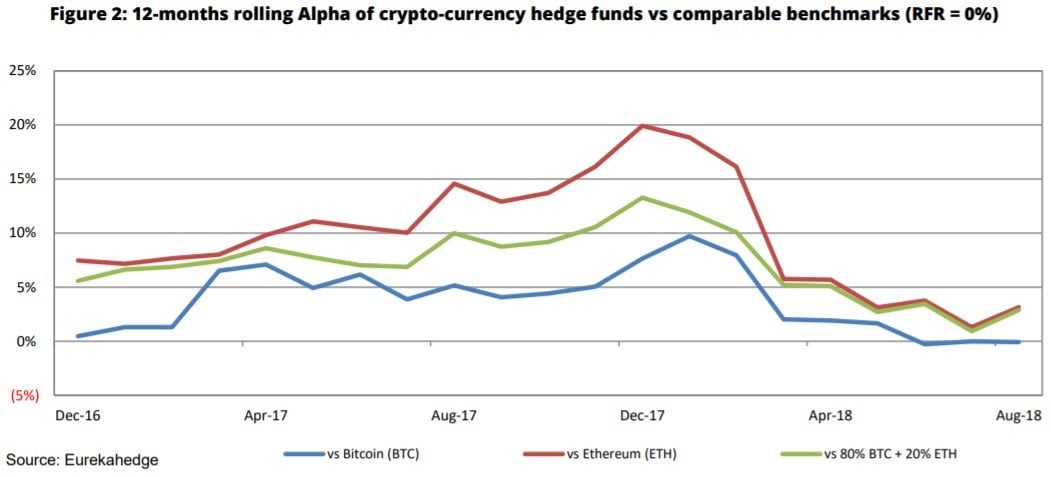 Cryptocurrency hedge funds generated 1.36% alpha against bitcoin, 6.2% alpha against ethereum, and 2.93% against the passive 80/20 BTC/ETH portfolio. According to Eurekahedge, cryptocurrency hedge funds managed to generate alpha even against ethereum because they had low beta resulting in "low systematic exposure" against it. The Eurekahedge index generated 0.17% of beta against ethereum and 0.9% of beta against bitcoin.
Eurekahedge spotlights cryptocurrency fund outperformance
Eurekahedge also broke down further the outperformance of the constituent funds in its Crypto-Currency Hedge Fund Index against the passive 80/20 BTC/ETH portfolio. The firm noted an inverse correlation between the number of cryptocurrency hedge funds outperforming the passive portfolio and the performance of that passive portfolio.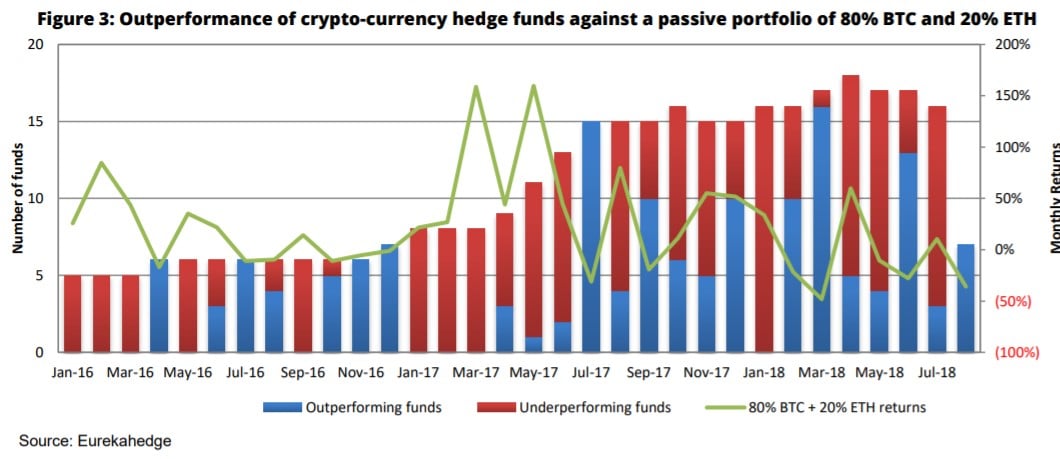 "When the portfolio generates a positive monthly return, most of the crypto-currency hedge fund managers were typically unable to capture the entire upside of the underlying assets," Eurekahedge explained. "On the other hand when the portfolio is down for the month, hedge fund managers were able to provide some downside protection and outperform the passive portfolio."