Bitcoin price back to earth after a wild 2017
This year it's been an entirely different story for cryptocurrencies. The bitcoin price plummeted earlier this year after South Korean regulators took action against cryptocurrencies. Hackers also breached Japanese crypto market Coincheck, which carried the bitcoin price under $7,000 in February.
It just so happened that February brought a broader pullback across the market, so the bitcoin crash occurred at the same time stocks and some other assets were plunging as well. Some investors saw the bitcoin price crash as an opportunity to short cryptocurrencies, which they could do much more easily via the bitcoin futures offered by CBOE and CME. Eurekahedge argues that the widespread shorting of bitcoin could have exacerbated the selloff that was already going on in the crypto market.
This year the bitcoin price was down about 49% through the end of August, while the ethereum price was down nearly 62%.
Cryptocurrency hedge funds underperformed direct crypto stakes
In 2016 and 2017, when the bitcoin price and ethereum price were skyrocketing, seemingly without end, cryptocurrency hedge funds actually did worse than passive stakes in the two digital currencies, based on data from Eurekahedge.
Using its Crypto-Currency Hedge Fund Index, Eurekahedge compared the performance of cryptocurrency hedge funds with the bitcoin price, the ethereum price, and a passive portfolio containing 80% bitcoin and 20% ethereum.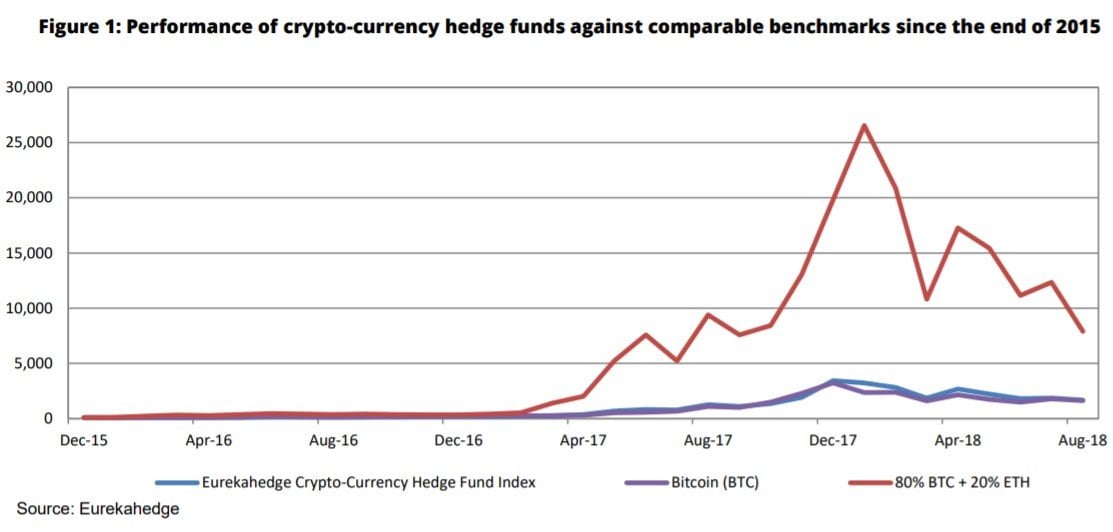 The Eurekahedge Crypto-Currency Hedge Fund Index gained about 90% in 2016, underperforming bitcoin and ethereum. The bitcoin price soared 125% that year, while ethereum was up 754%. The passive portfolio containing bitcoin and ethereum gained more than 250% that year.
In 2017, the gains were far more dramatic. The bitcoin price surged 1,331.5%, but that was nothing to the skyrocketing ethereum price, which was up more than 10,000% that year alone. The meteoric rise in ethereum boosted the 80/20 BTC/ETH portfolio significantly, as it gained about 5,554% in 2017.