Long-term data suggests a 1% increase in the debt-to-GDP ratio corresponds to a 3 to 5 basis point rise in the 10-year Treasury yield.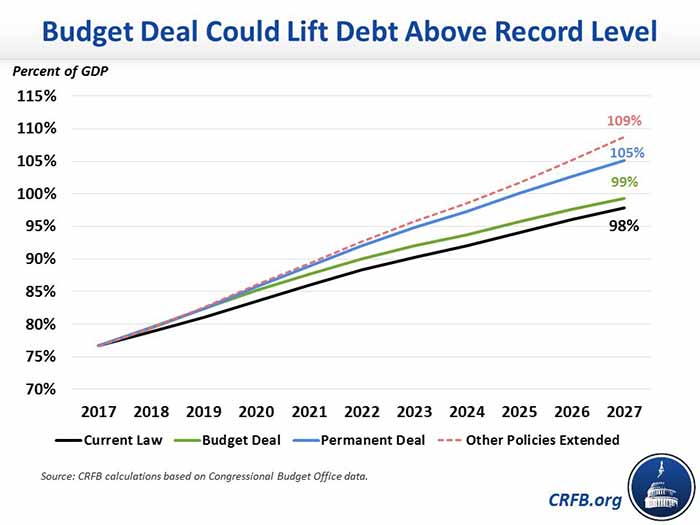 How can we be so sure of this? After all, the government has run deficits over the last decade, and we haven't seen a rise in bond yields, right? What's different now?
The answer is something the central bank mandarins blithely call "extraordinary monetary policy."
In the wake of the 2008 financial collapse, the world's major central banks stepped in to purchase U.S. Treasurys and other government debt as part of a deliberate strategy to keep interest rates low. The Federal Reserve, the Bank of Japan and the European Central Bank now hold more than $14 trillion of securities in their portfolios.
But the Fed has largely stopped buying those securities. Starting late last year, it initiated a so-called "orderly wind-down" of its Treasury position.
So, unless another source of demand for Treasurys emerges, the influx of fresh supplies of Treasury bills to finance rising deficits will create a buyer's market. That will drive down the prices of Treasurys and drive up yields.
Projections suggest the Treasury Department will sell more than $1 trillion of debt in 2018 alone.
Th-Th-That's Not All, Folks
Washington's fiscal irresponsibility will work through the economy in other ways, too.
The president continually reminds us that the U.S. economy is in growth mode. Employment is rising and so are wages. In that context, a massive economic stimulus in the form of deficit spending — larger even than the emergency stimulus package of 2009 — will rapidly turn growth into inflation. Inflation will lead to higher bond yields as buyers of Treasurys factor it into their future returns.
Those higher interest rates will force the government to funnel more of its funds into ever-growing interest payments. That will leave the economy with a smaller share of federal spending, depressing growth.