54 million units, or six billion square meters of housing, lay vacant in 2015
Prior to Li Gan's surveys, the most comprehensive study of excess housing inventory was performed by Hong Kong broker CLSA in 2014. That study was based on 609 construction projects in 12 Chinese cities and found an average vacancy rate for property completed between 2009 and 2014 of 15% – equivalent to 10.2 million empty units. The vacancy rate in mainly Tier 3 remote, low-value properties was 17%. Professor Li Gan's survey placed the vacancy rate at 22.8% in 2015, with 54 million units, or six billion square meters, of unused housing.
China's nationwide vacancy rate is well above international averages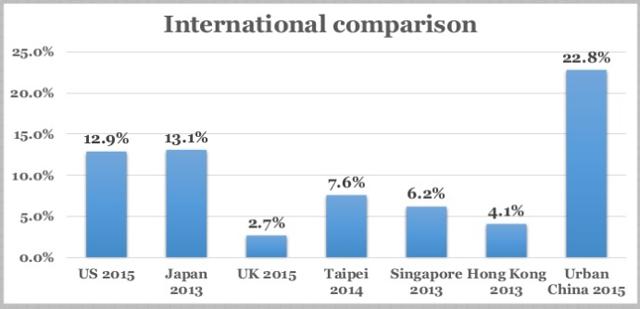 Prof. Li Gan performed a stress test on his data and found that if nationwide prices fell by 5%, 17.1% of vacant houses would be below purchase price.
A stress test reveals a significant risk for China's housing market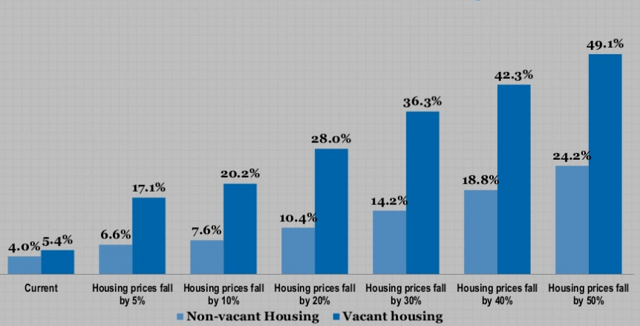 Prof. Li Gan's data supports other analysis that suggests that many house buyers are now buying for investment purposes.
Vacancy rates from new purchases are rising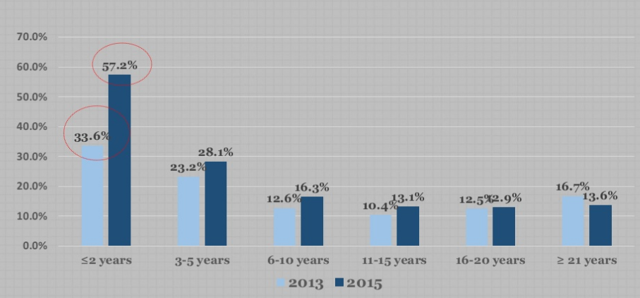 Continued overcapacity in coal and steel has brought inventory levels back to all-time highs
Strong gains in iron ore and steel prices in 2016 were widely attributed to capacity and production cuts in China. Yet, a recent study by consultancy Custeel on behalf of Greenpeace Asia found that 60% of iron production capacity cuts and 70% of steel production capacity cuts related to capacity that was already idle.
Speculative trading on the Chinese commodities exchanges has offered strong support to key commodity prices, and this explains why prices have been rising and staying resilient in the face of increasing inventory build-ups at the ports in China.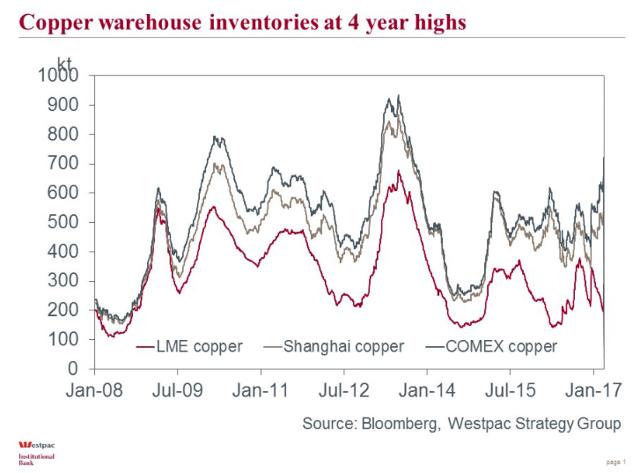 Chinese port inventory is at fresh all-time highs in nominal volume, and is approaching records versus rising steel production. This will place a cap on iron ore prices.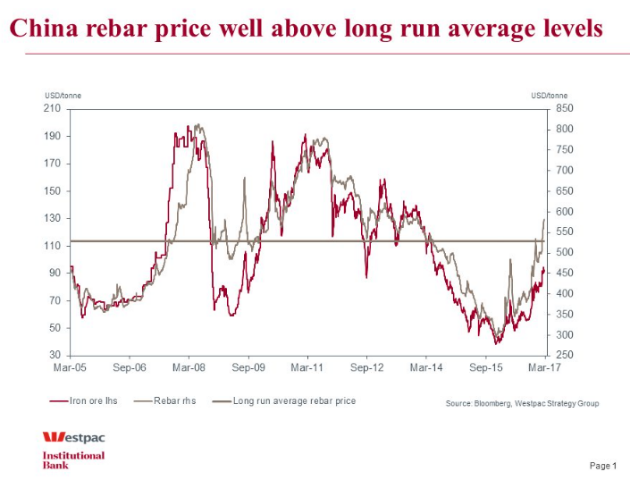 China rebar prices are approaching Y4000/t, hitting the high reached back in mid-2012 and well above long-run average prices.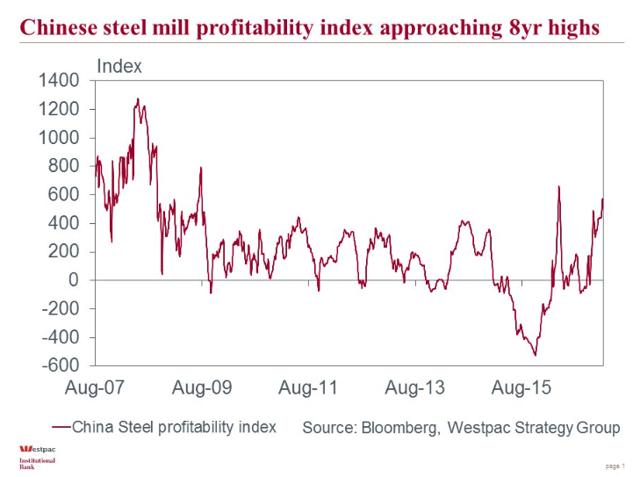 Rising billet and rebar prices has taken steel back to the highs reached in mid-2012, lifting steel mill profitability close to the highest levels in 8 years.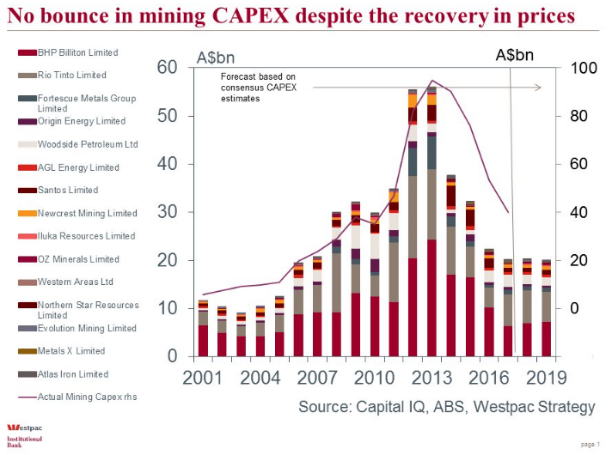 Despite the rebound in commodity prices, the large Australian miners (and Glencore) have not cheered on the price rally and are not planning to ramp up capex.
Regardless of the capacity cuts, there is no shortage of steel in China. Steel production for 2016 was 808.4 million tonnes, up 1.2% from 2015. Steel rebar inventories rose to 8.397 million tonnes in the week to February 17th, the highest for almost two years and more than double the recent low of 3.508 million recorded on November 18th last year. For iron ore, inventories surged to 127.5 million tonnes in the week ended February 17th, the highest since at least 2004, according to data compiler SteelHome. In January, China imported 92 million tonnes of iron ore, the second-highest tally on record. Market consensus is that inventories at warehouses and ports in China will reach peak storage levels in Q2 2017, and a correction in prices will follow.
Iron ore stocks at ports and the price of iron ore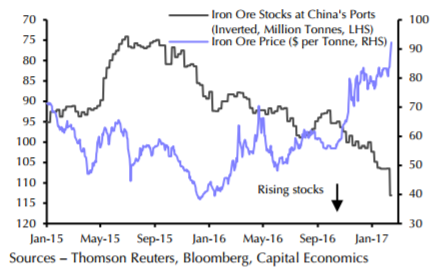 A key issue in understanding China's economy is understanding how important inventory build-ups are to gauging future economic performance. In the cycles that have defined the growth slowdown since 2013, inventory levels in coal, steel, iron ore, and housing all reach levels of absolute overcapacity before beginning to fall in an apparent cyclical downturn. Eventually, the market reaches equilibrium and a cyclical upturn starts again. Upturns in the inventory build-ups then begin at a higher trough level than the previous cycle. Debt levels in the overall economy have continued to build unabated through these apparent cycles, and overall demand for commodities has been relatively stable. The price declines have come as a result of variable supply leading to absolute oversupply.
The present global reflationary environment has been created by the most recent cyclical upturn in China
At the heart of the reflation story that has driven the rally in global equity markets in 2016 is the recent cyclical upturn in China. A massive credit boost into the Chinese banking system coincided with falling commodity prices entering into deficit, leading to inventory drawdowns, a tightening of the futures curve spreads, and higher prices. These higher prices and a booming real estate market helped to boost China's economy.
Now, inventory global supplies in crude oil, natural gas, iron ore, copper, and steel are all nearing all-time highs at the same time that the US Fed appears to be entering a gradual interest rate tightening cycle. It isn't a coincidence that as China's economy moved from deflation to inflation last year, inflation readings in the eurozone, Japan, and the US all began to tick higher. The inflationary effects that President Trump's proposed policies might create aren't nearly large enough to offset a fall in growth in China.
A recent study prepared for the US monetary policy forum questioned the effect that QE and low benchmark rates have had on steering long-term inflation expectations. The study found, among other things, that gains in energy and commodity prices had a greater impact on inflation expectations.
A study by researchers at the Fed published in October 2016 found that demographic factors alone accounted for a 1.25% point decline in the natural rate of real interest and real gross domestic product growth since 1980. Workers save more during their working lives, children and the old spend the most, and as a result, ageing populations save less.
Conclusion
At the recent National People's Congress, China's leaders reiterated their goal of achieving a minimum growth rate of 6.5% up to 2021. Based on the rapid build-up in debt that has resulted from trying to maintain growth since 2013, it is beyond the laws of economics that this can be achieved. No country has accumulated debt at a similar pace since WWII. In light of the current growth rate in debt, China will achieve a debt ratio exceeding 350% of GDP just to maintain current growth rates. The country's war is political and ideological. After President XI is re-elected in the fall of 2017, the authorities will have no choice but to accept lower growth.
Additional Info: Originally published March 30th, 2017