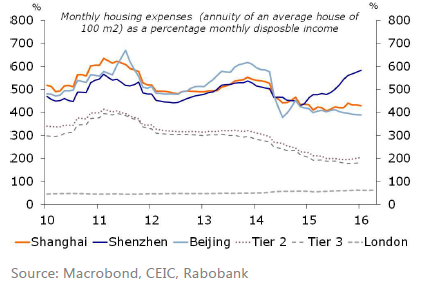 Every's affordability index places housing expenses in Shenzhen 6 times greater than the average disposable income, while the average ratio in London is 70%. In 2015, average annual disposable income in London was $55,000 per capita, but was only slightly above $8,000 in Shanghai and Beijing.
The house price boom was largely confined to Tier 1 and 2 cities up to 2015, but the investment surge last year has combined with a nationwide government initiative to encourage house purchases in Tier 3, and several Tier 3 cities are now in bubble territory. Based on Rabobank's models, bubbles are showing in Nantong, Wuhu, Dongguan, Zhuhai, Zhengzhou, Tangshan, and Shijiazhuang. Here, property prices exceed fundamental price levels by at least 25%.
Several Tier 3 cities are flashing red after prices surged in 2016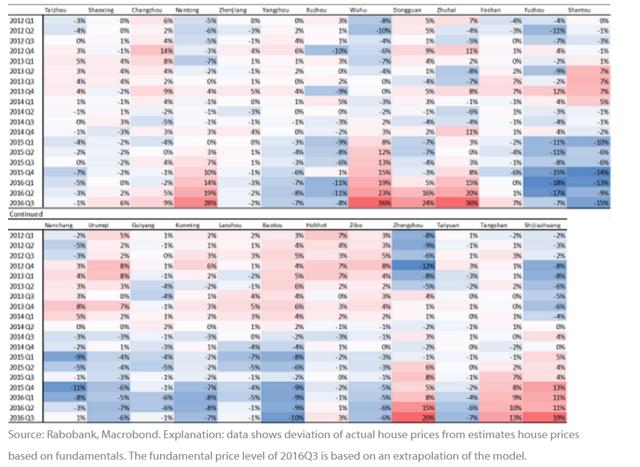 The bubble in Tier 1 cities continues unabated

To show the extent of the boom, Rabobank calculate that roughly 92 million inhabitants (approx. 12% of the population) are living in a boom city.
"History doesn't repeat itself, but it often rhymes"
As western central banks lowered benchmark interest and the US Fed and the ECB began their respective quantitative easing programs, China's central bank left domestic rates at elevated levels, encouraging an avalanche of capital inflows. Ultra-low interest rates allowed Chinese property developers to raise large amounts of cheap credit with yields that didn't reflect underlying risks.
The developers operate as though their debts are guaranteed by the government, and the large successful companies have competed aggressively for years just to survive. Small regional and commercial banks compete to lend to the property sector. If house prices begin to fall, many developers won't be able to repay their debts.
Risks relating to the banking system are more nuanced. There is very little mortgage securitisation, and banks generally hold mortgage debt to maturity. Local governments, on the other hand, are exposed to significant amounts of real estate debt securitisation, as they have financed most of the infrastructure that was needed for urban development. This debt is securitised in local government financing vehicles (LGFVs).
The Chinese governance and development models create an incentive for local governments to increase the price of land to grow revenues from land sales. The big developers often bid for tracts of land in "land king" auctions, paying prices that defy fundamental values. Zhang Zhiwei of Deutsche Bank examined 252 land auctions and found that 40% of successful bidders would lose money if real estate values flatlined. These auctions contributed to land values rising 66% in 2016 based on the leading index of 100 cities.
The government has controlled rapid price rises in the past by implementing sales curbs. The sales restrictions are akin to an ice bucket challenge for home buyers, who seek to time the authorities' actions, rushing into the market to buy before new restrictions can be put in place. In Tier 1 cities, the authorities control land sales and ration land to developers, helping to drive prices higher. In Shanghai, the share of land available for residential property development is less than in New York or Tokyo. Based on the IMF's house price-to-wage ratio, China has seven of the world's top ten most expensive cities for residential property. The economy is very dependent on elevated land and property prices, and many of the players in the property sector are dependent on values continuing to rise and not just leveling off in future.
The series of charts below show how the boom has been driven by monetary policy decisions. The authorities began to introduce measures to support growth in 2015.
Cheap and easily obtainable credit has fuelled the boom in real estate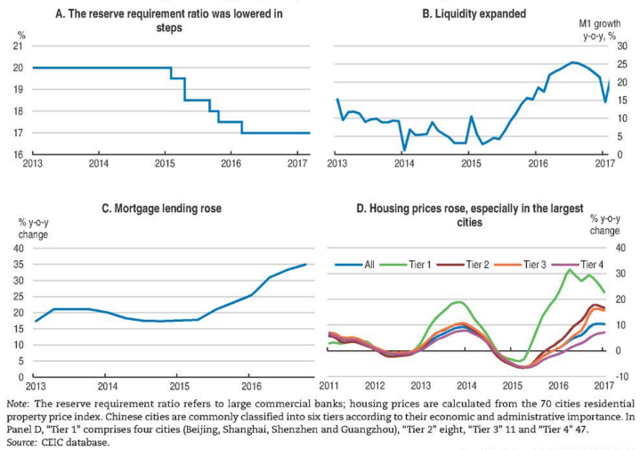 China's economy has relied heavily on the booming real estate market to support growth since 2015. Banks have been encouraged to increase mortgage lending, and loans to the household sector rose by 64% in 2016 and have risen by 75% so far in 2017. The authorities have promoted nationwide "marketing campaigns" to encourage house purchases in Tier 3 cities, which are awash with empty housing units.
Mortgage lending to households as a % of GDP has been gradually rising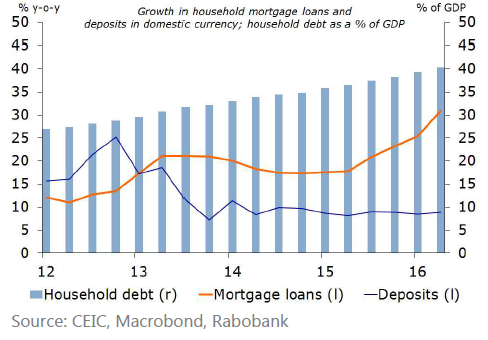 NPLs tied to real estate are rising, and the banks are increasingly exposed

Is the ghost city phenomenon a real issue?
To construct China's five-year plans, thousands of academics, party members, and officials put forward research and opinions on various development goals and targets. In recent years, dissent has emerged on the wisdom of building massive urban developments before social and economic growth necessitates development.
Property developers listen closely to the central authorities' directives at the National People's Congress meetings, and one cause of the oversupply in housing has been the widespread misunderstanding of how urban migration was taking place. Much of the migration has been urbanisation in situ, where formerly rural areas become subsumed in new urban city developments. This is different from the understanding of urbanisation as a process seen through the movement of rural residents into cities and their redefinition as urban citizens. Prof. Li Gan, who conducts nationwide household surveys, estimates that this misunderstanding is responsible for an overbuild of approximately 38 million commercial housing units. China's 150 million redefined migrants brought around 38 million housing units with them as they urbanised, essentially creating no new demand for housing.
At the recent National People's Congress in January, a survey was presented by a think tank connected with the National Development and Reform Commission, outlining how 3,500 new districts could be built across China that could house 3.4 billion people (China's current population is approx. 1.4 billion). Ghost cities, vacant buildings, a dour industrial outlook, and heavily over indebted local governments shows a different picture of regional growth prospects to the rosy image promoted at the recent Congress.
The overcapacity problems in housing don't show up in data compiled by the National Bureau of Statistics. Figures only include completed houses and houses ready for sale, but developers often sell units before they are completed or abandon developments before completion to move on to more promising areas in the hope that prices will improve. The rapid build-up in housing inventory was first documented in 2013 in a report by the IMF, which estimated that housing inventory was three times that of figures shown in official statistics. Another issue with China's housing data is that local and regional authorities are incentivised to continue raising their total permissible inventory levels to make excess inventory supply appear smaller.
The charts below are from a WSJ article in 2015.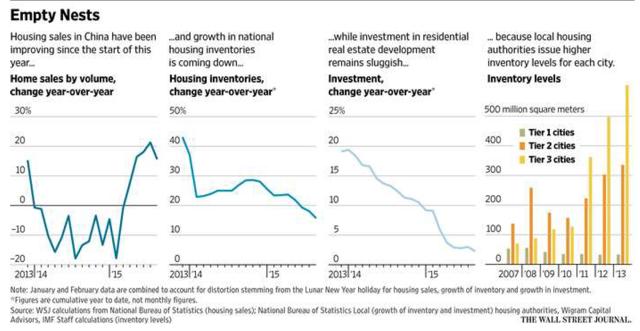 The central authorities have guided the large property developers to consolidate in recent years, and would likely force them to buy inventory from failing developers if a downward price adjustment process went awry. China's real estate boom is built on the expectation of rising prices. Developers build with the expectation that prices will rise, allowing them to make profitable investments. Builders are not building in many cases to meet an immediately addressable demand, relying instead on the local authorities to produce the conditions to create housing demand in the future. If prices start to fall, developers could start selling en masse. This overreliance is a key risk for China's economy – as prices continue to rise, sales curbs could have a negative effect on overall economic growth and the potential to achieve growth targets.