PPI rises rapidly, while CPI rises steadily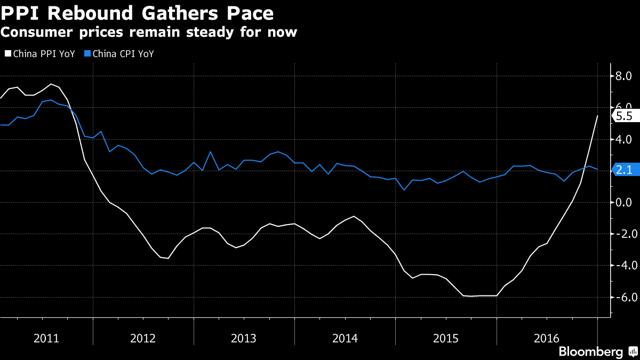 The divergence in trends between PPI and CPI stems from the fact that energy and commodity prices are the main inputs into PPI calculations, but only oil prices are translated through to CPI, and only one-third of oil is directly consumed by consumers in China. As a result, the PBOC is unlikely to raise the benchmark interest rate this year in response to continued strength in PPI and CPI. The capacity and production cuts brought industrial supply more in line with demand, and this, along with easy credit, fuelled speculation on the commodities exchanges, boosting the key commodity prices and driving PPI higher. With manufacturers able to draw from their already high inventory levels and benefit at the factory gate from higher prices, cumulative corporate profits jumped 8.5% in 2016 from a year earlier. Later in 2017, higher input prices will start to hurt manufacturer profits. This positive rising price environment allowed private fixed asset investment to stabilise, but on the flip side, higher prices will begin to work against manufacturer profit margins later this year.
Higher input prices allowed private investment to stabilise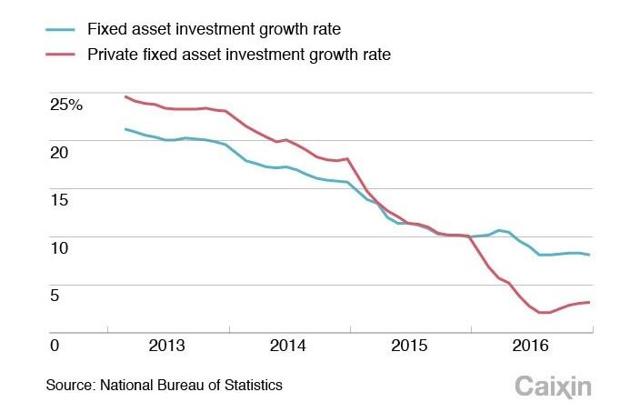 China's myriad of hard choices
The authorities are faced with a myriad of policy dilemmas, as deeper supply-side reforms this year will mean workers must be laid off from the zombie SOEs in the coal and steel sectors. This, in turn, will mean companies must be allowed to go bankrupt and debts unpaid. Local governments rely on these industries across the industrial belt for tax revenues. Local government themselves are highly indebted, and benefited from increased land sales and rising property tax revenues in 2016.
Higher Chinese benchmark rates in 2017, however, would have the effect of raising borrowing costs on a heavily indebted economy and would result in a spike in defaults and higher unemployment. Spending on infrastructure has increased this year, but wasting resources on poorly planned projects has been a problem in the past, and this is likely to continue. Yu Bin, director of the Development Research Centre at the State Council, commenting at the recent National People's Congress said there are few regions that still offer attractive investment opportunities for private investment in local authority projects, and most new projects are being funded by the central government. Local authorities have little capacity left to add to their debt burdens, while the central government has been suffering from declining fiscal revenue growth levels in recent years.
Growth in residents' income has underperformed GDP since 2016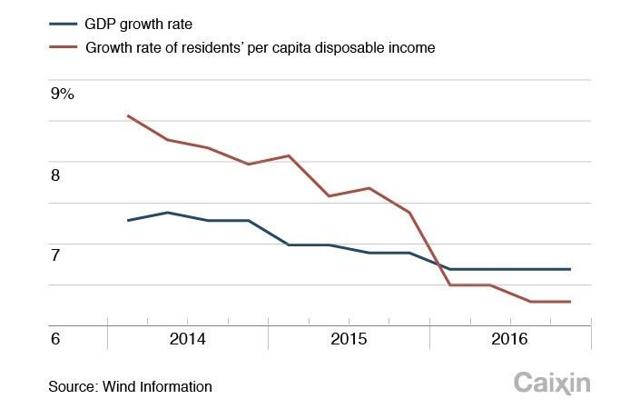 Later in 2017, demand for new credit will weaken as manufacturers profit margins start to come under pressure from higher commodity prices. Consumer spending accounted for 64.6% of GDP growth last year. However, per capita disposable income rose just 6.3% year on year, marking the first time in years that the figure fell below the GDP growth rate. China's household savings are widely discussed in reports on the future potential growth of the economy. Households retain a low share of GDP growth, being paid too low a share of what they produce. This is why growth in household incomes has been so sluggish in comparison to the apparently strong nominal GDP growth figures. Yu Bin said a consumption growth rate above 10% is unsustainable in the face of declining consumer income growth. Much of the growth in the "new economy" e-commerce sectors is coming at the expense of physical brick-and-mortar retail channels and is not creating incremental new growth.
The absolute potential demand for credit is reaching its peak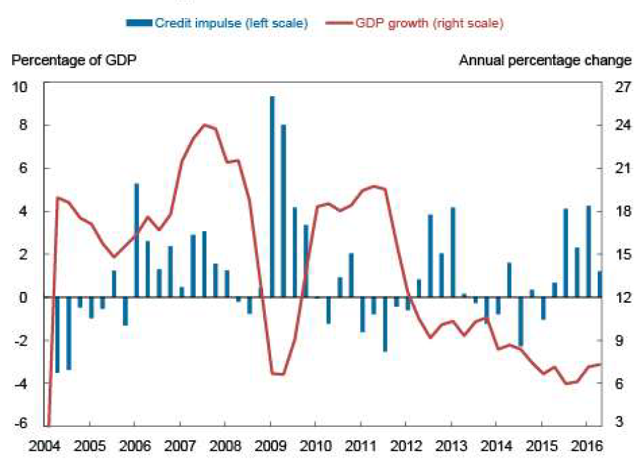 China's policymakers don't have the same decision room as in the past, and many of the former economic levers are proving to be levers that can only be pulled at a given point in time. Assumptions that the central authorities hold a firm grip over the economy are not as widespread as in the past, especially in light of the obvious lack of compliance with the deleveraging measures in recent years. In practice, the state-owned sectors compete aggressively against each other and pull in different directions based on geographic and economic differences. This reflexive divergence between perception and reality means that in practice, decision making is decentralised, with banks and large companies pursuing their own agendas. This explains why debt levels have continued to surge higher and the banks easily flaunt deleveraging efforts through off-balance sheet lending.
The construction and real estate boom is driving growth
Real estate prices have continued to rise this year despite the introduction of sales restrictions by the authorities in Q3 2016.
The boom in real estate prices continues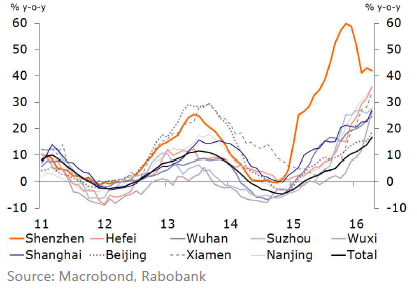 In recent months, the central authorities have announced that approval will be given for a raft of new infrastructure projects across the county, and restrictions on new land sales will be relaxed in various cities. In January-February of this year, real estate development investment rose 8.9%. Chinese banks extended 498.5 billion yuan ($72.1 billion) in loans to property developers, the most for the same period in 6 years, and an increase of 11.5% y/y.
Home prices have continued to trend higher. In January-February '17, the value of new homes sold rose 23% y/y to 912 billion yuan, vs. 17% growth in December. Development loans to property developers have been rising m/m despite the restrictions that were implemented in October 2016.
Real estate investment rises 8.9% in January-February '17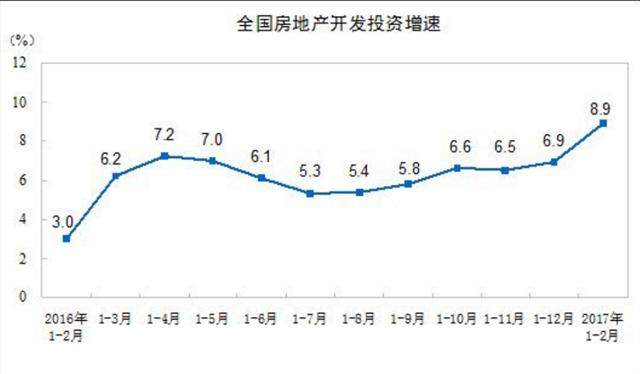 China is experiencing the largest real estate boom in history
Housing value as a % of GDP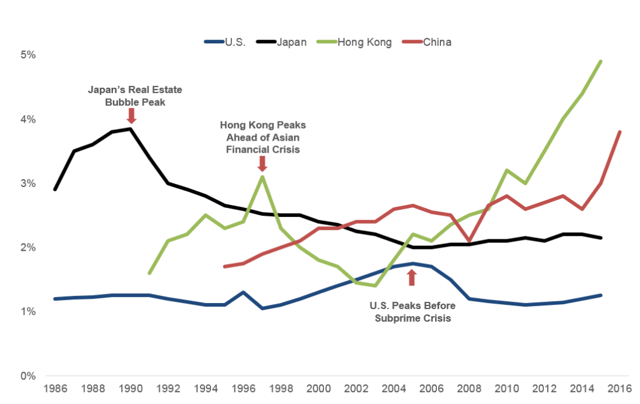 China's total value of residential housing as a ratio of the total value of GDP currently stands at 3.27 times and is forecast to stand at 3.72 by YE2017.
Japan's real estate boom (the black line) peaked in 1990 at 3.7 times GDP. Shortly after, property prices fell 67%.
Hong Kong's 1997 boom peaked (green line) at 3.04 times GDP.
The US boom peaked (the blue line) in early 2006 at 1.75 times GDP.
Hong Kong's current boom has left the value of residential housing at 5 times GDP. This is expected to rise to 5.5 times by YE2017.
International media have featured many articles on the high sales prices achieved for apartments in coastal Tier 1 cities. The CNN interview with Wang Jianlin, in which he described China's real estate markets as "the biggest bubble in history", was widely reported in international media at the time.
By September 2016, property in Shanghai with an average floor size of 100 m2was priced at $675,000, and similar property in Shenzhen cost $825,000. These prices are much higher in absolute terms than the average sales price in other expensive urban areas around the world, such as London ($630,000) and New York City ($670,000). In Shanghai, some land has been sold for more than three times the average price for residential property in Manhattan. Michael Every at Rabobank has compiled an affordability index for Chinese cities, linking monthly household expenses to disposable income levels.
Based on affordability, Chinese cities exceed London by a factor of 4 to 7 times