Summary
The stock printed a 15-year low in October last year.
Q3 delivered a higher-than-expected result.
International key markets kept the company in solid shape, while the U.S. market is still vulnerable.
Everything that is done in the world is done by hope. - Martin Luther
Schlumberger Ltd. (NYSE:SLB) stock is looking for a bounce on the back of oil prices hitting a 7-month high on the increased Mideast tensions and improved sector outlook.
The Schlumberger stock has suffered quite a bit in the past couple of years. Shares of the company hit a 15-year low in October last year as a result of the increasing concerns over the future outlook for the entire oil and energy sector.
Most recently, Australia approved the 100,000 barrels per day Sangomar project where the Subsea Integration Alliance (SIA), Schlumberger's subsidiary, is one of the main three suppliers. The unit is expected to equip the project with the umbilicals and production systems.
Shortly after it printed the 15-year low in October, the company announced earnings of $0.43 per share, compared to market expectations of $0.40. The revenue also came in better than expected - $8.54 billion vs. $8.50 billion expected. Investment-wise, the forward P/E ratio of 23x makes the stock not so cheap.
Technical analysis
Technically, the price action is trading near multi-year lows. However, the stock gained more than 30% since October, when better-than-expected Q3 results were presented. The clear target for the bulls is the zone just below the $50 handle, where the important horizontal resistance and the 100-WMA have joined forces.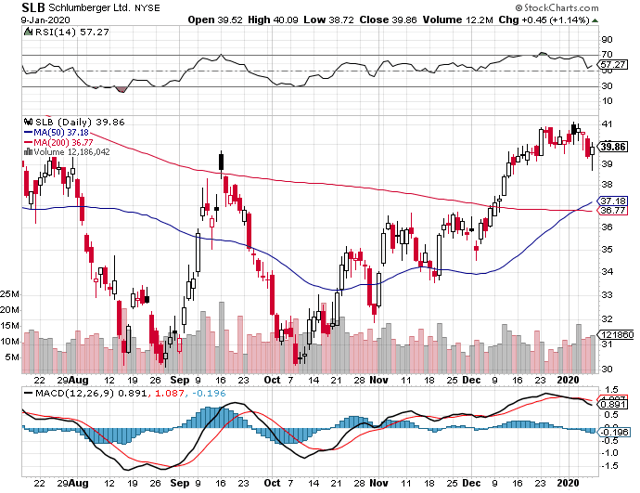 On the downside, the 15-year low of $30.65 will offer strong support if the price rotates lower. However, a break of the mini descending trend line that connected two previous lower highs suggests that there may be more upside for the SLB stock.

Continue reading on Seeking Alpha.