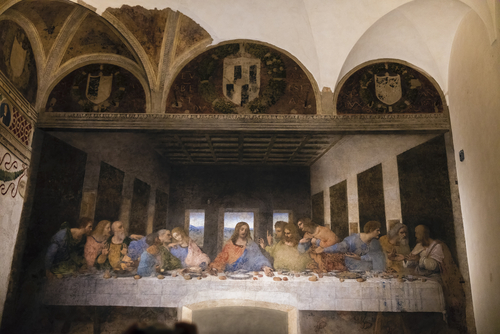 The Last Supper by Leonardo da Vinci in the refectory of the Convent of Santa Maria delle Grazie
We know that Easter is associated with the lamb which comes from Jewish tradition at Passover and of course, Jesus and his disciples celebrated with their Last Supper. The date is also tied to the Jewish festival of Passover. So Easter is not a pagan ritual historically as was Christmas. But it is still a blend of cultures that seem to have all come together to form what we call Easter retaining the Anglo-Saxon goddess name.
Now we have to understand where did the bunny laying eggs come from or the traditional Easter Egg hunt that they even practiced on the lawn of the White House. The earliest documented mention of decorating eggs for Easter comes in 1290 England. There, buried in the household accounts of King Edward I for 1290, we discover records for the purchase and decoration of 450 eggs that were dyed and some were gilded with gold probably for the special guests. The English tradition was for children to play with their "pace-eggs" by rolling them on the ground before eating them. Hence, the Easter eggs are rolled on the lawn of the White House, which seems to be a tradition that began in 1878.
The tradition of a bunny rabbit seems to have begun in Bavaria (southern Germany). There appears to be the origin of a hunt for children to find eggs that were hidden in the garden. They were supposed to have been placed there by a rabbit or hare. There are some accounts dating back to the early 17th century where they also eat the rabbit. This may be part of the spring feast. Accounts are not very clear from that period in time. But we know there was a hunt looking for eggs placed there by a rabbit, which they may have eaten as well. We do know that in England they would hunt rabbits and eat them for the spring which dates back to the 16th century.
An Easter tradition of eggs makes sense insofar as it was the symbol of life. The rabbit seems to be just the traditional meal after winter. Thus, Easter is a curious blend of customs that are connected with celebrating spring and the end of a hard winter, with the resurrection of Christ. The egg being the symbol of life and birth, the lamb is the sacrifice, and the rabbit was just a good meal.