Secondly, gold(GLD) investors have not been deterred against Fed hiking.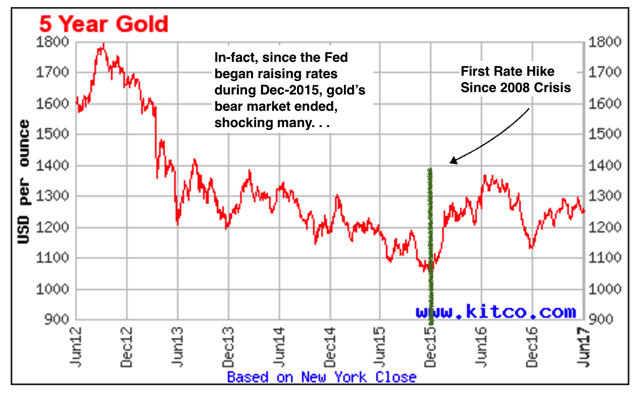 Actually, it is the exact opposite. The first rate hike that happened December 2015 sparked the life back into gold after 3.5 years of a brutal bear market.
Rising interest rates should have sent gold plunging.
With the economy recovering, inflation low, the US Dollar at multi-year highs, and higher yield securities becoming available, there was a lot going against gold.
That is, if you believed what the Fed was preaching. . .
But gold has held relatively steady in the face of multiple rate hikes and a strong dollar. And since 2017, the price of gold has strengthened, while the U.S. dollar has trended lower.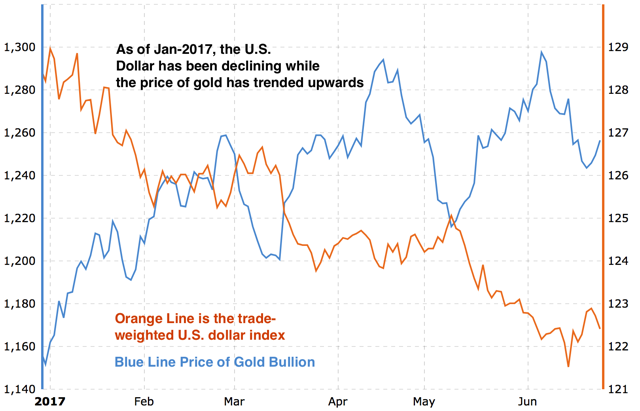 Both bond investors and gold investors aren't buying the Fed's recovery hype. But after Yellen spoke Tuesday, the stock market is also having doubts.
To start, the idea there is a correlation between stock prices and a country's GDP is a myth.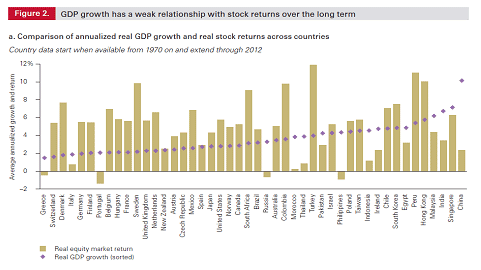 What drives equity prices are the returns offered per share of a company's capital business. GDP rates, which many believe are significant drivers of stock prices, don't historically correlate.
The idea that nominal equity market returns approximate the country's GDP growth rate is historically uninformed and intellectually dishonest. If there were any merit to the idea that equity market returns should approximate GDP growth rate, we would see this in a tight relationship between the two variables across countries. But we don't - wrote Advisors Perspective.
Of course, a growing economy is healthy for business, as sales and profits increase. But, as we have all learned throughout history, a stock's price doesn't simply reflect a business' health. Lousy debt-ridden companies with inflated promotional hype can have high valuations. Meanwhile a business with a clean balance sheet, but in a boring sector, can have a low valuation.