Assure Holdings (IOM:TSXv / ARHH-OTCQB) is just starting one of the biggest growth curves of any junior company I have ever seen.
It's a medical story that sells itself because it has such a compelling value proposition for doctors, patients, hospitals and insurance companies.Assure matches up highly qualified neuro-monitoring technologists with surgeons, monitoring patients for them in the Operating Room – the OR.
The number of surgeries they monitored grew 76% last year.That volume should grow almost 100% this year.How are they growing? Doctors are referring other doctors by word-of-mouth. That's why profit margins are so high – 70% – and that's why growth has been so high.I expect 2019 revenue to be $25 million, up from $6.35 million three years ago.
Assure operates (pardon the pun) what I call a pull business model – where they turn a cost in the Operating Room (OR) into a profit centre.Doctors want in – they want what Assure is offering.With Assure, doctors are increasing their annual income by six-figures, and patients are getting better treatment.It's win-win.
This is the type of company I am uncovering at my new newsletter, InvestingWhisperer.com.
I'll explain all these details in a minute, but understand a few things right away:
This company has generated a profit almost every single month since going public two years ago
This business model is unique so far… creating A Big Moat against competitors. You must understand how doctors and insurance companies think and act – from state to state – AND offer both a compelling value to doctors and patients.I know of no other company operating exactly like they are.
Only 34 million shares out and management owns half of them
NO analyst coverage yet
Assure is keen to tell its story to investors
Growth is happening in MANY ways

Geographically – # of states – they've gone from one to six in the last 18 months and they hope to be in 10 by Year End 2019
Types of surgeries – has been primarily spinal but expanding into cardiovascular, orthopedic and ear, nose and throat
Number of doctors becoming partners and customers
All leading to large increases in the # of surgeries that Assure is monitoring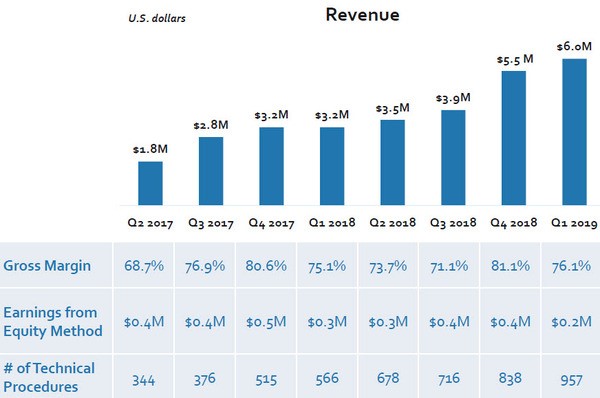 Source: Assure Corporate Presentation
I'll outline the compelling story below.But the last two things I want you to understand are – I have $200,000 of my own cash invested because….
I think this stock is about to do VERY WELL for me in the near term – so this is THE STOCK that I'm giving to you for free to introduce you to my new newsletter The Investing Whisperer.
In 2009 when I launched the Oil And Gas Investments Bulletin I gave away energy stocks that turned into doubles and triples.
Those Big Wins gave investors the confidence to try me out – and my subscriber count soared from zero to 2,000 from the excitement those stock picks created.
I'm no fool – I didn't forget what I learned in 2009.
This is my most important stock pick in a decade and I'm certain Assure Holdings is the stock to deliver what I need to have.
Assure Holdings – A Superior Medical Business Model
I'll make this as simple as I can. Within a surgeon's team in the OR, there is already a neuromonitoring technologist–I'm going to call them the "NM tech".
This person sits in the OR, in front of a computer screen, monitoring the electrical impulses from many needles that have been inserted into the unconscious patient.