Will Larry Summers Save The World Again?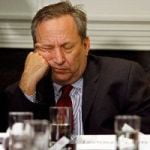 Modern macroeconomics is a boring and dreary trade. The monthly report outs on GDP, unemployment, inflation, and other data aggregates, are a dull waste of time. What decisions could you possibly make to improve your lot in life from these data reports?
Should you buy more toothpaste because the CPI is rising at a 5 percent annual rate? Should you risk a career change when the unemployment rate is over 10 percent? Should you buy an S&P 500 index fund because GDP growth is booming?
Economic reports are mostly useless for making intelligent decisions. Yet these reports provide government central planners a steadfast reason to exist. That is, to intervene in the economy to improve the data.
The goal for the planners is to get the reports to show numbers to their liking. This generally includes moderate growth, low inflation, and low unemployment. Years ago Alan Greenspan called this delightful combination a Goldilocks economy.
Reality, however, is often far different than what the official numbers say. What's more, government bean counters work overtime to fabricate the data to support the official story.
Still, anyone with at least a passing interest can readily tell the numbers don't add up. That it's mere government propaganda. And when reality drifts too far off plot…things can become remarkably amusing.
Several months ago, for example, the Federal Reserve said it would keep the federal funds rate pinned near zero through 2023. But consumer price inflation, fueled by radical amounts of fiscal and monetary stimulus, has now become too blatant to ignore. Interest rates will need to rise long before the end of 2023.
So the official story must be rewritten. On Sunday, with pen in hand, Treasury Secretary Janet Yellen told Bloomberg:
"If we ended up with a slightly higher interest rate environment it would actually be a plus for society's point of view and the Fed's point of view."