Why You Can't Trust Reported Inflation Numbers
We recently bought a summer house for our family on the Jersey shore. This was not a unique impulse on our part – it is a seller's market in the worst way imaginable. Having begun our search calmly with no intention of being rushed, we were soon in a bidding war which we "won" — by exhibiting less financial self-discipline than anyone else involved. Within weeks and before we'd closed, our realtor reported that we could assign our contract to another buyer for almost a 10% gain over our price. Bedrooms had already been assigned and additional beach equipment purchased. A quick taxable gain wasn't enough to counter the prospect of long family faces. Suburban real estate outside New York and many other cities is hot.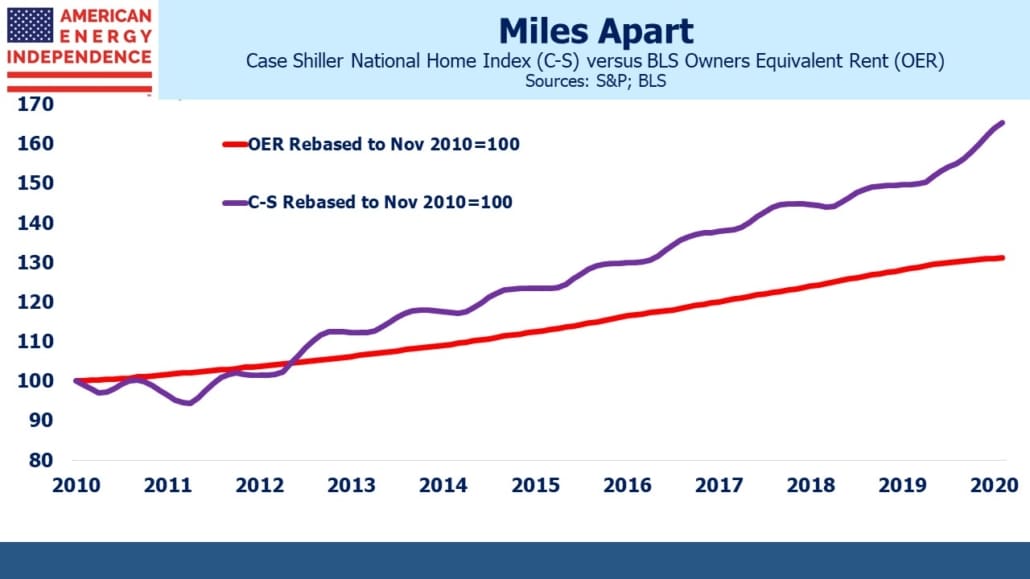 Naturally my thoughts turned to Owners' Equivalent Rent (OER) — the quixotic means by which the government measures housing inflation. Historically, around two thirds of U.S. households own their home (it's currently 65.8%). Around a quarter of consumer pre-tax income is spent on housing (either owned or rented). Measuring rental inflation is done by surveying actual rents, but for owner-occupied housing, the Bureau of Labor Statistics (BLS) conducts a phone survey in which they ask, "If someone were to rent your home today, how much do you think it would rent for monthly, unfurnished and without utilities?" This is OER.
A house (or an apartment) is a physical asset that provides a service (shelter). The BLS wants to measure the value of the service not the cost of the asset. It's a sound theory — except that few homeowners spend much time considering the rent they could charge if they vacated their home. OER is a theoretical concept – the only element of the inflation statistics not supported by actual prices.
These are familiar criticisms for those who have studied the issue. BLS statisticians argue that OER reflects all the costs of home ownership, including property taxes, mortgage expense and maintenance, just as the rental cost of an automobile or airplane does. They also argue it's also not easy to identify an alternative – an index that included mortgage expense and property taxes would incorporate the cost of financing an asset, which they're not trying to measure.