Why CFOs Aren't Boosting Capex
A New World?
Cyclical trends don't usually last long. The US PMI is near its peak already even though the pandemic is a couple of months from ending. The rate of change in economic improvement is set to peak soon even though the economy has a few quarters of strong growth to go. Equities follow rate of change if you're following sectors and industries. Individual companies differ obviously. This means we are in for new market leadership.
The chart below shows the potential performance in the next few months. This shows which industries do the best when the global PMI is rising and the US PMI is declining. That might be the picture as early as this summer. America has already experienced a lot of its stimulus boom and some of its reopening boom. Other countries are behind on the boom. Brazil is still in the thick of the pandemic even though cases have peaked.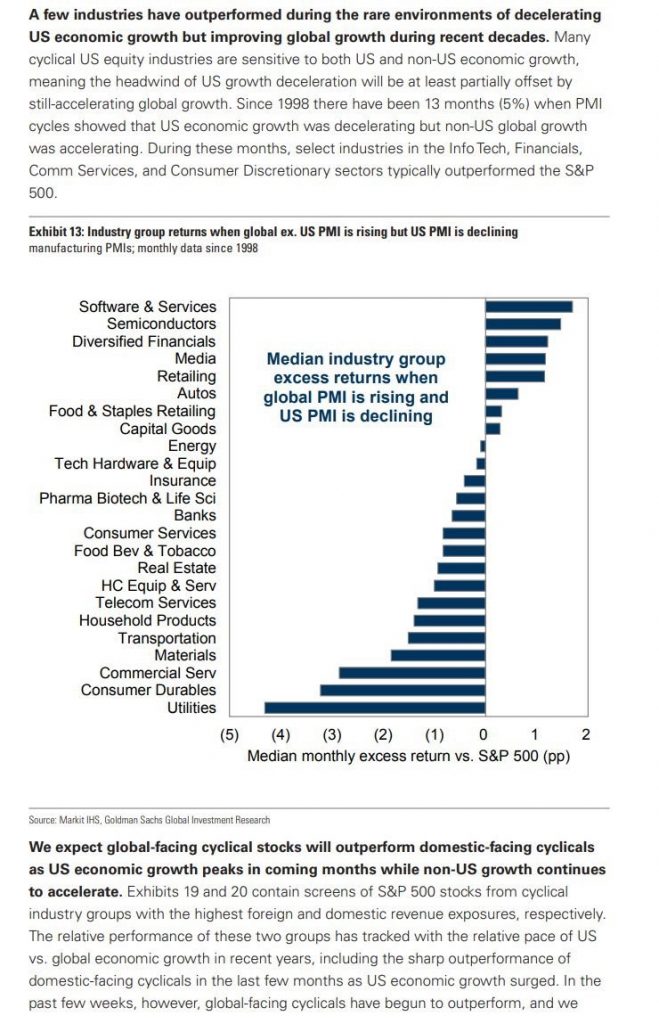 The chart shows software and services have the highest excess returns in this situation because American software companies are secular growers who have a lot of international exposure. The underperformance of utilities is much greater than any of the outperformers. It's notable that US software companies are extremely expensive. They face tough comps and extremely high competition.
Utilities will respond to the 10-year yield. Even with the peak in PMIs, we think the 10-year yield can increase from here (depending on your timeframe). The bond market already knows this growth won't last forever. Yields can rise if growth spikes higher than expected or stays elevated longer than expected. If the 10-year yield hits 2%, it will be bad for utilities. From February 26th to April 20th, the XLU rose 16% due to the recent decline in yields. The rally in utilities and long-term treasuries might be over.
Conclusion
There has been a decline in searches for sweatpants because people are going out more. People shop for clothes they will wear in the next few months. Consumers know they won't need more sweatpants for the summer. RevPAR at US hotels is still down, but its decline is moderating. We should see positive growth compared to 2019 by June. CFOs don't invest more in CAPEX because of a lack of need to expand capacity. There isn't any other reasonable response since uncertainty and the need to preserve cash are low. Once the US PMI peaks and the global PMI jumps, software stocks should do well and utilities should decline all else being equal (all else isn't equal).
Disclaimer: The content in this article is for general informational and entertainment purposes only and should not be construed as financial advice. You agree that any decision you make will be ...
more