Why Bankrupt Hertz Is A 'Short Squeeze Poster Child' Ahead Of Bizarre Equity Offering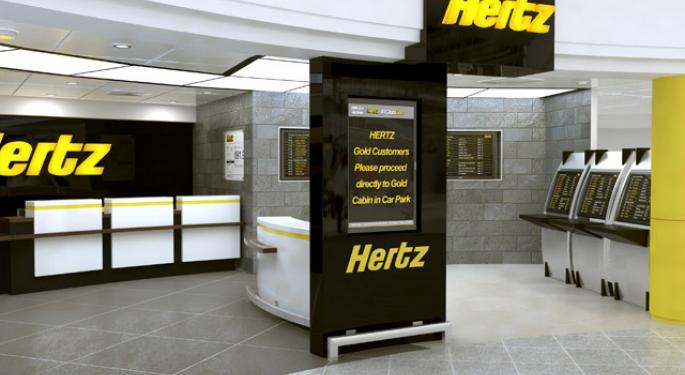 Photo credit: dhub limited, Flickr
On Monday, Hertz Global Holdings Inc HTZ announced it would be selling up to $500 million in common stock. In the same filing, the bankrupt company said those shares of stock are unlikely to ultimately hold any value unless higher priority debt holders are fully paid, and short-sellers seem to see that news as a slam-dunk trade.
On Tuesday, S3 Partners analyst Ihor Dusaniwsky said Hertz short sellers have covered $46 million of their positions over the past month. However, in recent days Hertz's short interest has once again risen by 5.7 million shares worth about $9 million.
Hertz's short interest now stands at $148 million, roughly 36.9% of the stock's float. Dusaniwsky said Hertz's borrow fee has jumped to 112%, and short-sellers are currently paying more than $461,000 per day to maintain their positions.
Short Squeeze Potential: Year to date, Hertz has been an extremely profitable trade for short-sellers, which have netted more than $378 million in profits. But Dusaniwsky said the Hertz short trade has become increasingly difficult this week due to rising borrow fees and broker recalls.
"HTZ has now become a short squeeze poster child with stock borrow rates skyrocketing, large amounts of stock borrow recalls hitting the street, retail investors driving the stock price up (except for today) and short sale locates as rare as vacationer car rentals," Dusaniwsky said.
He said Hertz stock could take off like a rocket if retail traders begin buying the stock for a short-term trade.
Dusaniwsly said traders can expect Hertz to continue to be extremely volatile in the near-term given the tug-of-war between the potential for near-term short squeezes and the likely longer-term march toward $0 as the Hertz bankruptcy plays out.
Benzinga's Take: The fact that a bankrupt company is even capable of unloading $500 million in stock to willing buyers is somewhat indicative of just how crazy the market has gotten in 2020.
© 2020 Benzinga.com. Benzinga does not provide investment advice. All rights reserved.