Why Are Initial Claims So High - Explaining "The Jobless Claims Puzzle"
There has been an odd divergence in the US labor market: while both BLS nonfarm payroll surveys (Household and Establishment) telegraph an increasingly stronger jobs market, a signal confirmed by the latest near-record print in job openings, the labor department's initial claims data has been stubbornly sticky to the upside, indicating at least 18 million people receive some sort of benefit, far above the official number of unemployed people according to the BLS...
(Click on image to enlarge)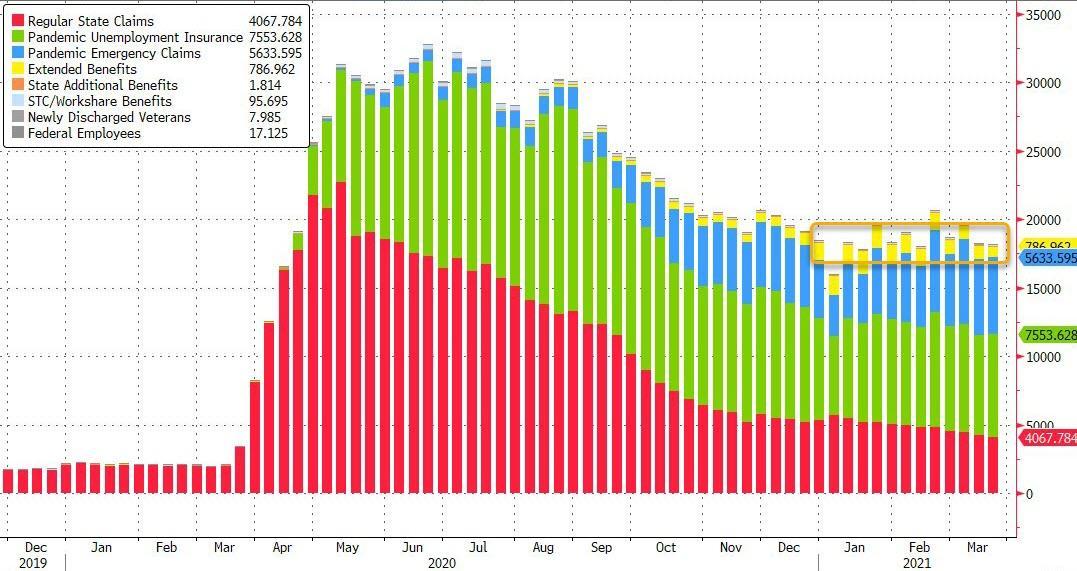 ... and with the weekly initial claims now roughly 3-4x higher than their pre-covid levels, there are those such as BofA's Michael Hartnett, who conclude that the US may have spawned a "new welfare state" hidden in the outlier number of new job claims every week.
(Click on image to enlarge)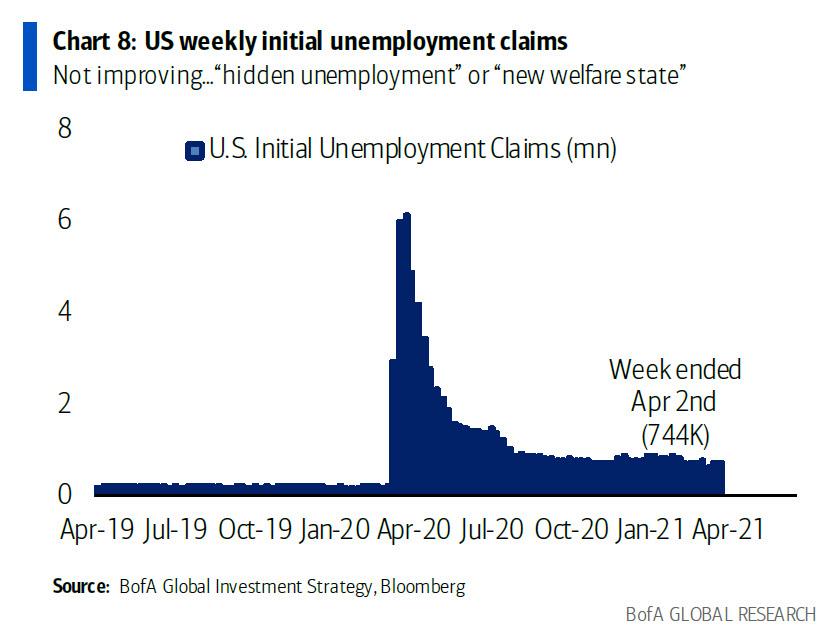 So is this bizarrely high number of weekly claims the back door through which socialism entered the US?
Addressing this question, JPMorgan's Michael Feroli writes today that "one of the puzzles of US labor market data is the difference in messages being sent by the level of initial claims for unemployment insurance and almost every other employment indicator."
For example, in the latest weekly figures 744,000 filers claimed jobless benefits, higher than at any point prior to the pandemic, including the Great Recession and the early 1980s recession. This is occurring even as the unemployment rate is down to 6.0%, job growth is booming, and the JOLTS measure of layoffs is at the low end of the historical range.
One clue to resolving this puzzle according to Feroli "is to stress the 'claim' in jobless claims. When someone files for benefits they are claiming they are eligible for unemployment insurance. It's the state labor agencies, however, who actually determine whether the claimants truly are eligible."
In addition to publishing initial claims for unemployment insurance, the Department of Labor also publishes the number of first payments, which is the number of workers who have filed for benefits and were actually determined to be eligible to receive benefits. These data are reported monthly and with a longer lag than initial claims.
Disclaimer: Copyright ©2009-2021 ZeroHedge.com/ABC Media, LTD; All Rights Reserved. Zero Hedge is intended for Mature Audiences. Familiarize yourself with our legal and use policies every time ...
more