Who Is Buying Bonds With Negative Yields? JPMorgan Answers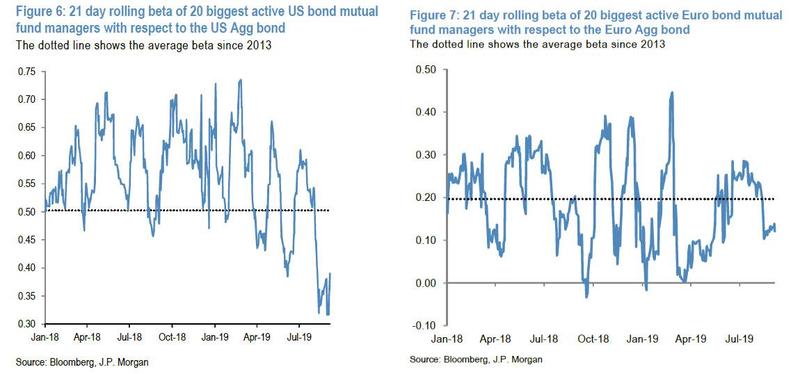 Putting the above evidence together, JPM concludes there is now a lower risk of a bond tantrum relative to what we saw last July; it would also suggest that the probability of even lower rates is greater than a violent snapback higher in yields.
Which brings us to the main question: who will be buying bonds at already record negative yields?
As JPM notes, with bond yields during the month of August having seen new lows after a rally triggered by the escalation of the US-China trade conflict from end-July, the universe of negatively yielding bonds expanded sharply. Indeed, negatively yielding bonds in the Bloomberg Global Agg index reached a new high of $17tr, or just over 30% of the index by market value.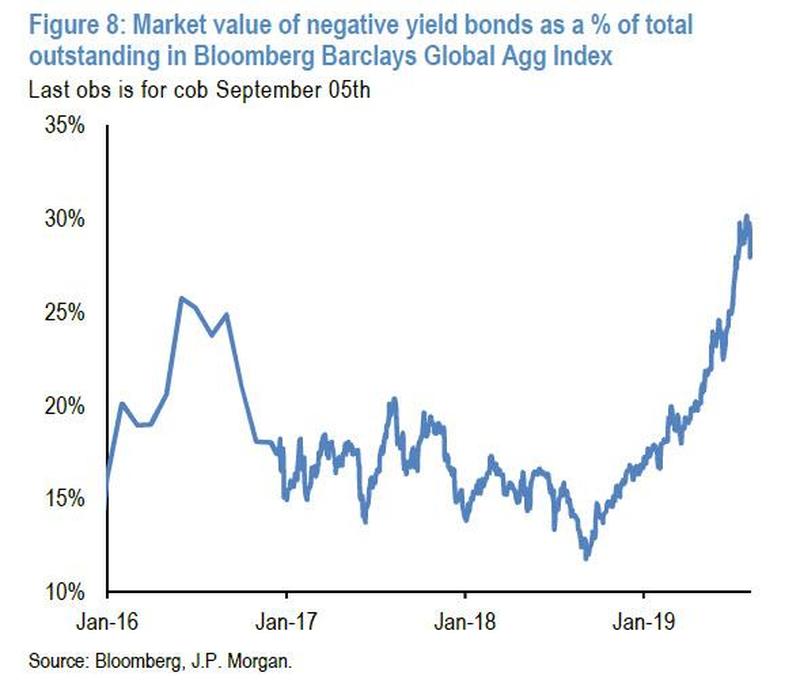 Furthermore, as discussed here and elsewhere, the steady rally in yields has seen the entire yield curve of several countries trading at negative yields. This, as even JPM notes, "has again raised questions about who buys bonds with negative yields?"
Here, JPM's Panigirtzoglou notes that there are in fact a number of investor groups that buy bonds with negative yields; these include:
investors that fear or expect deflation;
investors that speculate on currency appreciation;
investors that expect capital gains resulting from central bank easing;
central banks themselves, particularly when conducting asset purchase programs;
indexed or passive multi-asset and bond funds;
banks who seek to avoid potentially even more negative deposit rates;
foreign investors who may find negatively yielding bonds attractive after FX hedging is accounted for;
CTAs and other momentum-based investors who are price-based rather than yield-based investors; and
some insurance companies and potentially pension funds that may be forced by regulations to de-risk or reduce duration mismatches even as yields turn negative.
Here, the JPM strategist focuses on the latter three as these have generated most discussion in recent client conversations.
First, looking at foreign investors, these may find negatively yielding Euro area or Japanese bonds attractive, as some investors (e.g. dollar-based investors) take advantage of the cross currency basis as well as differences in funding rates (although not every investor chooses to hedge FX exposure). In this way, US investors can buy a 10y Bund yielding -60bp or 10y JGB yielding -26bp and still provide yield pickup of 55-70bp over 10y US Treasuries. This is shown in Figure 9, which depicts the 10y UST yield as well as 10y Bund and JGB yields currency hedged to US dollars using 3-month rolling hedges. In addition, Euro area investors can achieve around 55bp of pickup in 10y JGBs vs. 10y Bunds after currency hedging to maturity, while Japanese investors can achieve around 30bp of pickup in negatively yielding 5y Spanish bonds vs. JGBs.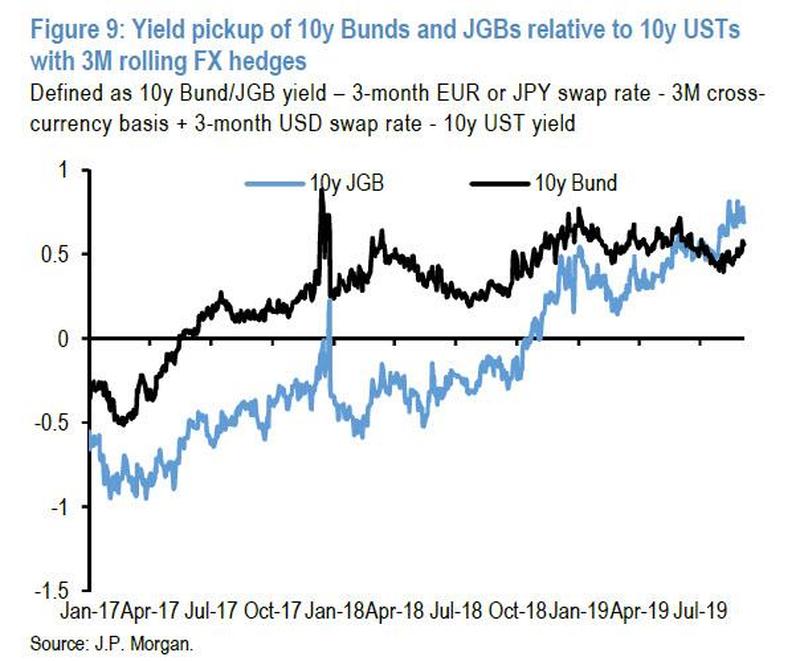 Indeed, foreign investors have been ravenously buying Euro area and Japanese bonds this year, despite nominal negative yields. On aggregate, the ECB and BoJ balance of payments data show foreign investors have bought nearly $210bn of Euro area (of which around $130bn of government bonds) and $70bn Japanese bonds in the first half the year. The significant inflow into Euro area bonds in particular stands in stark contrast to the $550bn of sales by foreign investors from March 2015 when the ECB started its QE purchases to December 2018, and while it not straightforward to quantify the inflow from US investors, it can account for a substantial part. Moreover, German bonds, which saw cumulative outflows of nearly $360bn from March 2015 to December 2018, have seen inflows of more than $65bn in the first half of 2019. Of this, May and June accounted for a combined $22bn even as 10y Bunds have been trading with increasingly negative yields. The inflows into Japanese bonds on an annualized basis were also stronger than the $80bn per year on average since 2015.
Disclosure: Copyright ©2009-2018 ZeroHedge.com/ABC Media, LTD; All Rights Reserved. Zero Hedge is intended for Mature Audiences. Familiarize yourself with our legal and use policies every ...
more