Who Is Buying Bonds With Negative Yields? JPMorgan Answers
This in turn goes to address the first question - who was buying bonds as yields plumbed record lows, as it suggests that the bond rally in August was largely driven by VaR insensitive investors such as insurance companies and pension funds rather than VaR sensitive investors. The chart above also provides a partial answer to the second question, because according to JPMorgan, given how high bond volatility is at the moment, there is higher chance that bond volatility subsides rather than rises from here, pointing to lower likelihood of a VaR shock currently relative to last July.
A second common feature of previous bond tantrums or VaR shocks was a rapid deterioration in market liquidity ahead of the shock. And sure enough, there is clear evidence of further deterioration by looking for example at JPM's market depthproxy for 10y UST futures shown in the next chart: "this market depth measure, based on the size of the tightest three bids and asks each day measured in number of contracts, has unwound this year much of the previous improvement seen during 2017 and 2018. And more recently this measure declined further posting a multiyear low in mid-August."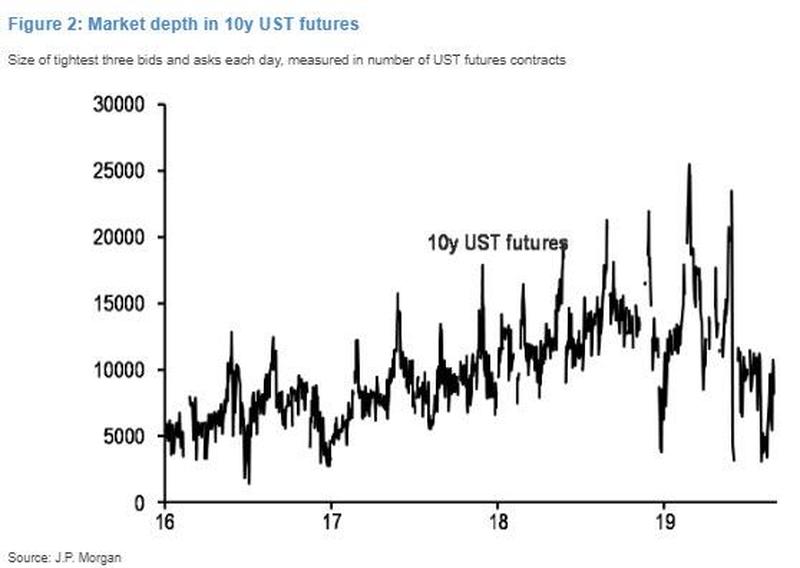 A third feature of previous bond tantrums or VaR shocks was position vulnerability by VaR sensitive investors such as hedge funds and asset managers including CTAs who are active participants in futures markets. Here, as Panigirtzoglou writes, telative to last July, the evidence on investor positioning is more mixed.
1) Movements between government bond yields and the HFRX Systematic Diversified CTA index have almost mirrored each over the past months and this continued to be the case in the most recent weeks. This is shown in the next figure, which depicts a CTA performance index against the average of 10y UST and Bund yields.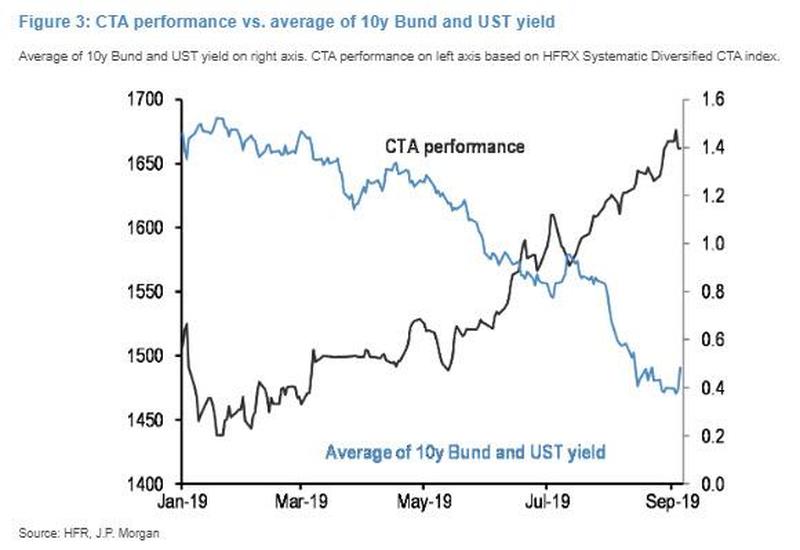 The CTA performance index spiked over the past months suggesting that CTAs have been increasingly benefiting from the bond rally, something we noted last week when we highlighted the stellar performance of CTA investors in 2019. A continued overhang of long duration positions by CTAs is also implied by JPM's momentum signals for 10y TSY and Bund futures as shown in Figure 4.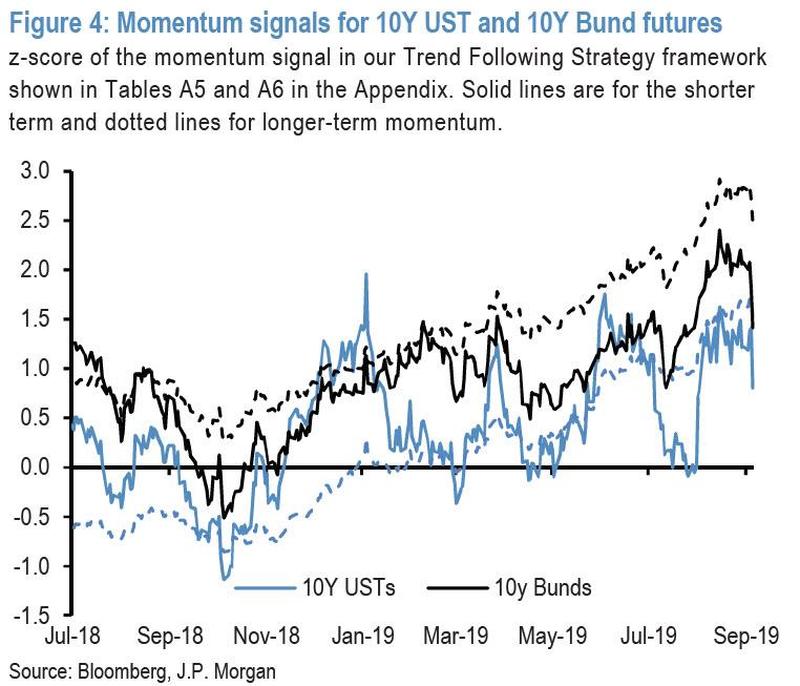 These momentum signals had been rising up until the end of August to high levels for USTs and very extreme levels for Bunds. The change in momentum over the past week or so has already started putting downward pressure on these momentum signals suggesting that CTAs and other trend following investors might come under pressure to reduce their very elevated bond positions, unless of course bonds get a fresh wind in their sails following Friday's surprisingly poor jobs report.
2) The evidence on real money managers is more mixed: JPM's European client survey, which tends to be less volatile and to exhibit clearer medium-term trends than its US counterpart, showed another large increase in the long duration exposures by our clients over the past month. The current long duration positioning based on the latest survey on August 29th is now matching the previous highs seen in April 2015 ahead of the Bund tantrum at the time.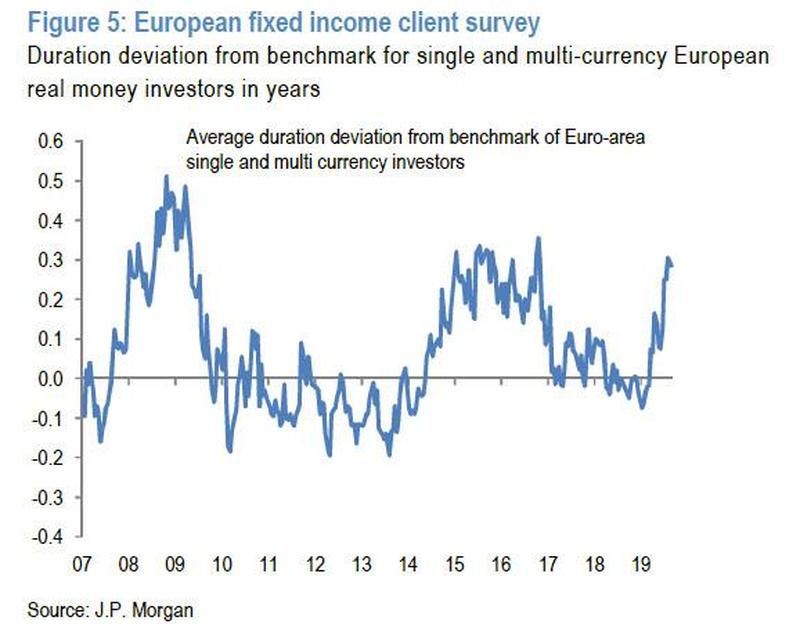 Yet if one looks at the biggest active bond mutual fund managers relative to aggregate bond indices, a different picture emerges. The effective total duration of these bond managers declined in August as shown by Figure 6 and Figure 7, pointing to below rather than above average total duration exposure, especially in the US. This suggests that it is also possible that the rise in bond volatility in August put pressure on VaR-sensitive investors such as bond mutual fund managers to cut their duration positions last month. So if one combines Figure 5, Figure 6 and Figure 7 we conclude that real money managers are currently not as long duration as they were in July.
Disclosure: Copyright ©2009-2018 ZeroHedge.com/ABC Media, LTD; All Rights Reserved. Zero Hedge is intended for Mature Audiences. Familiarize yourself with our legal and use policies every ...
more