Which Industries Have Room To Grow?
The May BLS report is expected to be redemption for the April report which dramatically missed estimates. Based on initial claims, we believe job creation will be much higher in May. We are very curious if April's reading is revised higher. Usually, when a report misses estimates sharply, it's revised higher, making the initial reaction look foolhardy. This time we didn't need to wait a month for the market to reverse its initial reaction. It occurred gradually over one day.
Specifically, overall job creation is expected to rise from 266,000 to 645,000. The estimate range is from 400,000 to 950,000. There is no indication that this reading will miss the low end of the estimate range again. The unemployment rate is expected to tick lower by 2 tenths to 5.9%. It should fall near 4% by the end of the year. The labor force participation rate is expected to rise one-tenth to 61.8%. Yearly wage growth is expected to be 1.2%.
We expect the solid labor report to push the 10-year yield a little higher. The reflation trade has momentum in part because the latest COVID-19 wave in India has ended. The hope is India can increase its vaccination rate making this the last major wave. Indian government officials are projecting the country will be fully vaccinated before December.
Some Industries Have Room To Run
Eating out has already fully recovered to above where it was prior to the pandemic. There is likely some pent-up demand that will temporarily keep spending above prior levels this summer. Some investors might expect this spike in spending to be a 'new normal.' If that theory works its way into asset prices, you can benefit from fading it. As you can see from the chart below, dental services still haven't fully recovered to normal levels. Other surgeries are rapidly recovering. People put off surgeries that they needed last year. With the pandemic mostly over, they are getting them again.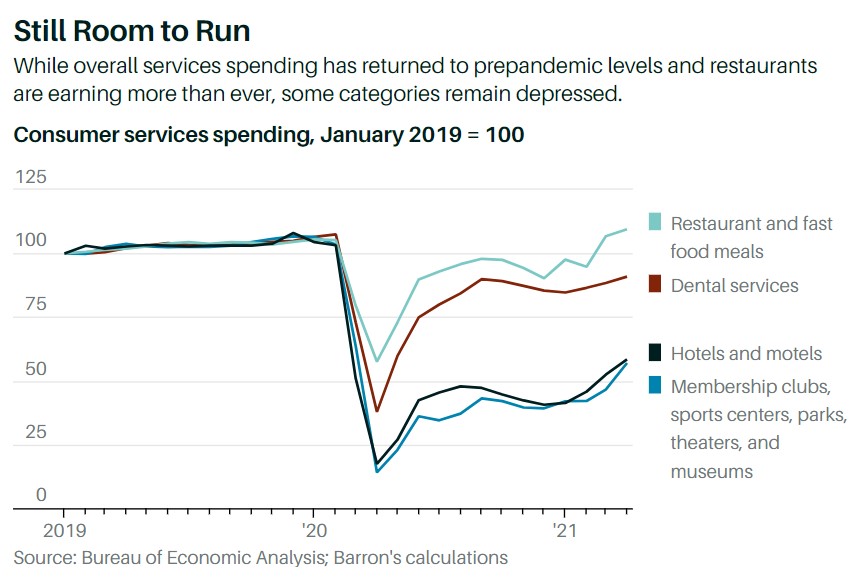 The biggest room for improvement is in hotels, gyms, and theaters. Many investors believe the reopening trade is overdone. You can't make such a broad-sweeping claim. Each stock is pricing in something slightly differently. You need to do your own due diligence on each security. Some might still be cheap. If you start with such a premise, you will miss opportunities. It's best to start from a neutral basis and work from there.
Disclaimer: The content in this article is for general informational and entertainment purposes only and should not be construed as financial advice. You agree that any decision you make will be ...
more