What Is The ISM Index And How To Trade It
What Is It?
The Institute of Supply Management (ISM) Index is released monthly and is a composite score based on the results of a survey of 300 purchasing managers across industries.
In addition to a variety of industries, the ISM PMI report also includes more narrow data in sub-categories such as New Orders, Backlog of Orders, Exports/Imports, Production, Supplier Deliveries, Inventories, Employment, and Prices.
They further divide the reports into Manufacturing (PMI) and Non-Manufacturing (NMI).
Subcategories for the NMI include Arts, Entertainment & Recreation; Agriculture, Forestry, Fishing & Hunting; Retail Trade; Wholesale Trade; Construction; Transportation & Warehousing; Mining; Professional, Scientific & Technical Services; Information; Accommodation & Food Services; Management of Companies & Support Services; Educational Services; Real Estate, Rental & Leasing; Utilities; and Health Care & Social Assistance.
The overall PMI and NMI numbers are based on the evenly weighted scores of selected subcategories.
The baseline rating is 50.
If the number is above 50, it indicates confidence and an expanding economy.
If the number is below 50, it indicates a lack of confidence and a contracting economy.
The report is released on the first business day of each month.
Recent Data
The most recent report covered November 2020 and fell to 57.5 from 59.3 in October.
Timothy Fiore, the Chair of the ISM Manufacturing Business Survey Committee state that "The manufacturing economy continued its recovery in November. Survey Committee members reported that their companies and suppliers continue to operate in reconfigured factories, but absenteeism, short-term shutdowns to sanitize facilities, and difficulties in returning and hiring workers are causing strains that will likely limit future manufacturing growth potential. Panel sentiment, however, is optimistic"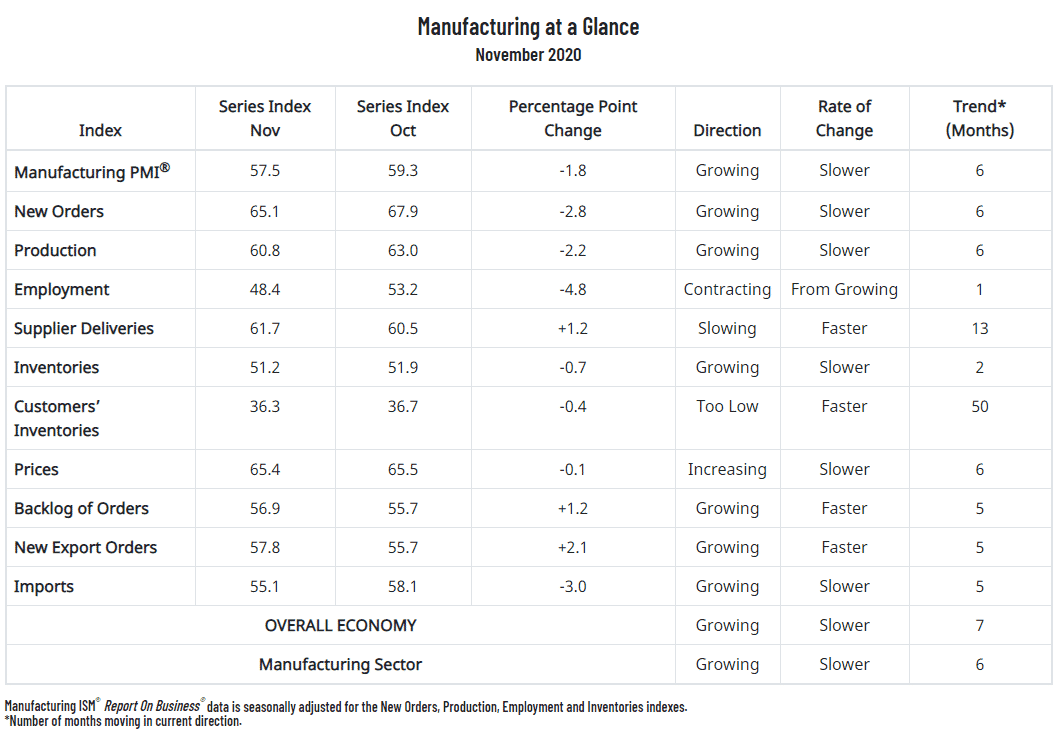 How To Trade The ISM Index
Disclaimer: The information above is for educational purposes only and should not be treated as investment advice. The strategy presented would not be suitable for investors who are ...
more