WallStreetBets Is Disrupting Financial Markets — Possibly Permanently
In much of the news coverage, analysts have reaffirmed their knowledge of the financial markets and levelled insults at the WallStreetBets investors. Billionaire and hedge fund manager Leon Cooperman of Omega Advisors had this to say:
"The reason the market is doing what it's doing is people are sitting at home, getting their checks from the government, basically trading for no commissions and no interest rates."

What the future holds
As of Feb. 1, there were about eight million members on Reddit's WallStreetBets, but it's only one of many online sites where retail investors are learning, interacting and sharing investment ideas. Together, these amateur investors are altering some long-held beliefs about investing and they're gaining influence in the market in the process.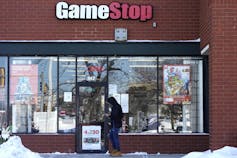 A customer checks his cellphone as he walks to a GameStop store in Vernon Hills, Ill., on Jan. 28, 2021. (AP Photo/Nam Y. Huh)
These retail investors aren't part of an organized movement trying to transform the workings of the financial market. Yet, as the GameSpot saga exemplifies, their online interactions have reshaped the power dynamic between retail and institutional investors. WallStreetBets Redditors helped propel GameStop's stock price to soar, forcing a halt in trading.
What does the future hold for the financial world? Take your bet.
Disclosure: This article is republished from The Conversation under a Creative Commons license.