WallStreetBets Across The World: The Past, The Present, And The Future
The Future: WSB in Russia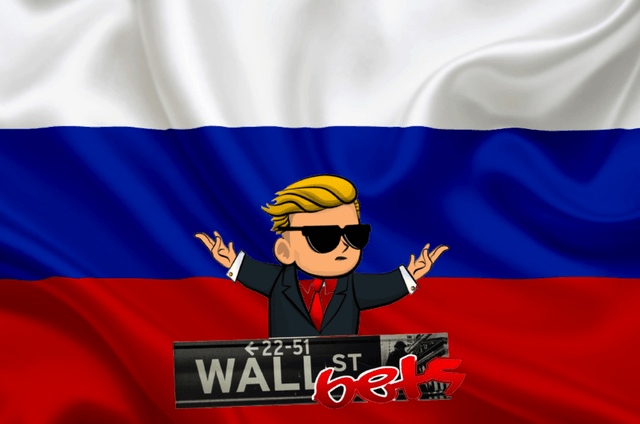 Total market cap: $576 billion Average retail portfolio: $1,183 People investing in stocks: 7.6 million (5.3% of total population) Retail share of capital market: 1.6%
Russian stock market is among the most mysterious ones for outsiders. While most of the people heard of blue chips such as Gazprom, Rosneft, Sberbank, etc. the majority of Russian stocks remain unknown to outside investors.
Russian market, same with the other markets had seen "WSB"-like events (even though not short squeezes, but rather Pump & Dumps (P&D)) multiple times over its history of growth.
Fig.3: Stocks of Beluga (BELU) – one of the top vodka brands in Russia suddenly raising during February 2021, without any apparent event, market or sentiment change
However, none of the events had even a relatively comparable resonance to WSB, neither from the capital side, neither from media attention. That is mainly explained by the unique structural differences of Russian stocks market, which goes beyond of what is commonly read in "other Russian stocks market research" reports.
To start with, Russian stock market is 17x times smaller than the Chinese one, and 88x times smaller than the American one. What else is on the surface is the average portfolio size of Russian traders amounting to $1.1k, which is a sizable amount for the average Russian citizen, but isn't so for others. And by the way, this metric is highly skewed for Russian market, as according to the Central Bank of Russia over 75% of retail market participants have assets of around RUB 10,000, which represents CNY 869 – lower than the official poverty line in China, and less than the minimum weekly wage in the U.S.
However, what is not mentioned in the common market reports is that due to the cultural differences Russian investors are more individualistic, therefore, it's way harder for them to collectively accumulate sizable amount of money to move medium-to-large cap stocks, as the Chinese investors do.
But even more "terrifying truth" (for anyone unfamiliar with Russian stocks) is that it's an "insider market". That means, that while clearly in any kind of market insiders have a competitive advantage compared to outsiders, in the U.S. there's SEC which tries to prevent inside trading and heavily penalizes anyone benefiting from it. In China, there's CCP with financial regulators who do take the best measures to ensure the wellbeing of general public and markets, therefore, also heavily penalize insiders unfaithfully benefiting from their own advantages. In Russia, well… It's Russia :) If you were to speak to any experienced trader from Russian stock market, you would learn that banks (i.e. major brokers) commonly inform their own top employees of stocks that senior executives (commonly HNWIs) or large clients will be buying, and the employees would collectively buy it. While anyone who is "not in" will be left behind the screen observing stocks soaring up, and wrongfully also trying to join the move, later to discover that s/he is left with illiquid stocks already at the bottom of just another P&D. While officials, regulators and institutionalized market participants will clearly reject such acquisitions, anyone who traded for over a year would confirm that such practice does exist in the market.
© 2021 Benzinga.com. Benzinga does not provide investment advice. All rights reserved.