USD/CNH Gains, Yuan Weakens As Risk Aversion Runs On Trump Tariffs
TRUMP TARIFFS INCREASED AT MIDNIGHT AFTER LACK OF PROGRESS
It's been a busy week across global markets with a number of headline items and price action themes of interest punctuating the backdrop. While themes of risk aversion have remained, the FX market has been relatively quiet, generally speaking. The notable exception to that has been two of the major currencies in Asia, as the anti-risk Yen has been very strong while the Yuan has been very weak, catching another gust of selling in the overnight session as US tariffs on China increased at midnight.
This continues what's been a very strong week in USD/CNH. The pair gapped-higher to open trade, and that theme has continued with prices rallying back-above the 6.85 handle. The wide expectation here is that China will look to offset this additional friction imposed by tariffs with looser monetary policy, which could further equate to Yuan weakness and, perhaps, even allow for an eventual break of the 7.0000 psychological level.
USD/CNH DAILY PRICE CHART
(Click on image to enlarge)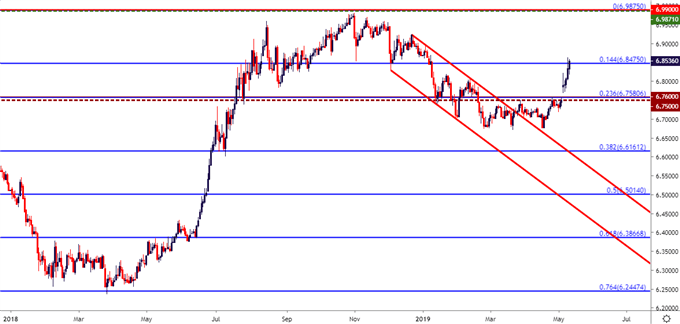 CAN YUAN WEAKNESS AND TRADE FRICTION FURTHER THE PUSH OF RISK AVERSION?
CNH weakness provoking a larger risk-off response through global markets is not unprecedented. Something similar happened in August of 2015 when China shocked markets by devaluing their currency as the IMF was evaluating the Yuan for inclusion in the Special Drawing Rights (SDR) basket; and in short order global equity markets had started to turn lower. That risk-off theme held into 2016 trade, until the Humphrey Hawkins testimony in February, at which point Janet Yellen opened the door to the possibility of looser monetary policy to offset any potential complications that may arise. Given that interest rates were near zero at the time, this amounted to the possibility of negative rates at the FOMC. This provided a quick boost to risk markets and that lasted into the Presidential Election, at which point an entirely new theme took over.