US: Retail On The Ropes
US retail sales have fallen for a third consecutive month as COVID-related restrictions and associated jobs losses dampen the consumer's willingness to spend. More stimulus cash may help boost sentiment and savings balances, but until the economy re-opens the spending situation won't improve meaningfully.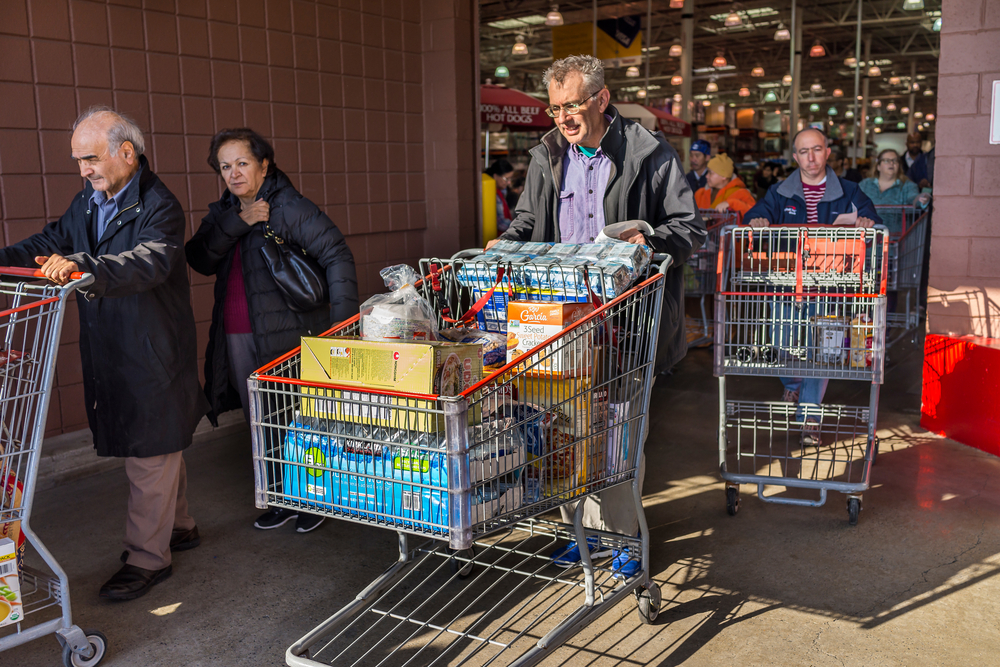 Shoppers in Fairfax, USA
3 in a row
The December US retail sales report adds more evidence that the US economy is wobbling in the face of the latest wave in the pandemic. Total sales fell 0.7% in December versus expectations of a flat outcome while the figure for November was revised down to a -1.4% month-on-month reading from -1.1%. When you add in the -0.1% reading for October, it is now three consecutive monthly falls.
It is important to remember that this is a value figure so higher gasoline prices actually boosted the number – gasoline station sales rose 6.6%. Strip out this and other volatile items such as food service and autos and building supplies you get what is called the "control" group, which better maps broader consumer spending. It fell 1.9% MoM after a downwardly revised 1.1% fall in November and a 0.1% decline in October.
There was weakness throughout – electronics down 4.9%, food down & beverage fell 1.4%, department stores were down 3.8%, eating & drinking out down 4.5% and non-store down 5.8%. The only areas to see increases were gasoline (+6.6%) on those higher prices, clothing up 2.4%%, autos (up 1.9%), and health up 1.1%.
(Click on image to enlarge)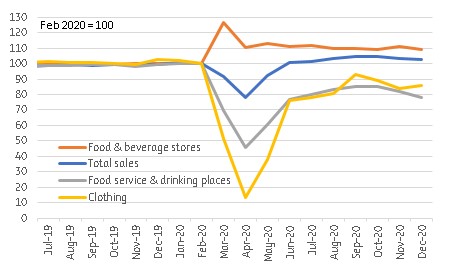 Source: Macrobond, ING
Sales will struggle until the economy re-opens
Stay-at-home orders in California, the US' most populous state will have been a key factor while the closure of dine-in eating in New York and other cities will also have weighed on spending.
Another key reason for the drop is that people did less socializing this holiday season. If you weren't meeting up with friends and family you probably weren't going to buy as many gifts – and especially not emergency presents just in case your long-lost uncle miraculously made an appearance. Less socializing also meant less "insurance" food purchases for the above reasons.
Disclaimer: This publication has been prepared by ING solely for information purposes irrespective of a particular user's means, financial situation or investment objectives. The information ...
more