US Recession Watch, October 2019 - US-China Trade War Talks Dash Concerns
In the prior entry in the US Recession Watch series, we concluded that "the start of September offers a chance for traders to reassess the US economy and the perceived threat of growing recession odds". Indeed, the return of volumes to financial markets after the summer gave traders an earnest opportunity to reassess their prior held beliefs regarding the state of the global economy – particularly as a potential US-China trade deal appeared on the horizon.
US Economic Data Better, but Growth Expectations Still Lag
Over the course of September, US economic data has improved relative to analysts' expectations. The Citi Economic Surprise Index for the US has improved from -11 at the end of August to 43 by the end of September. Like during August, given that data had performed better than expected and growth expectations failed to rise meaningfully suggests that market participants had been far too bearish on the US economy in the short-term. It still holds that fears of a US and a global recession linger.
Atlanta Fed GDPNow Q2'19 US GDP Estimate (October 15, 2019) (Chart 1)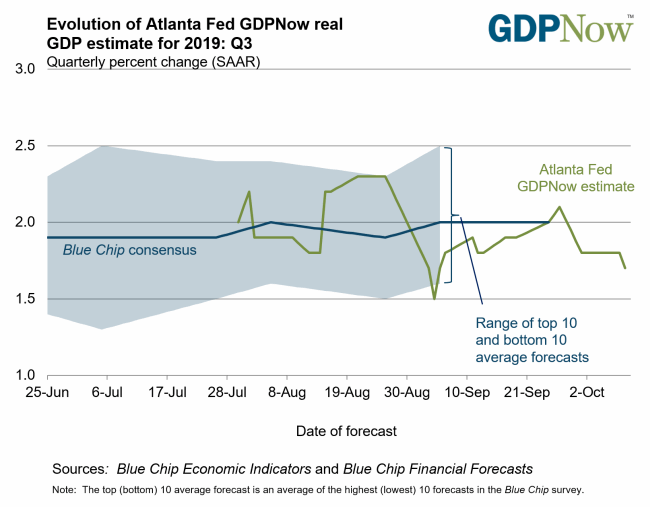 US growth expectations have moved sideways despite economic data improving relative to analysts' expectations in recent weeks. Based on the data received thus far about Q4'19, the Atlanta Fed GDPNow forecast is looking for growth at 1.7%. Q4'19 US GDP expectations have ranged between 1.5-2.3% since tracking began at the end of July. The next update to the Q4'19 forecast will be released after the September US retail sales data due on October 16.
Fed Rate Cut Expectations Less Dovish
There is now a 72% chance of a 25-bps interest rate cut at the October Fed meeting, according to Fed funds futures (or a 28% chance of no change in interest rates). If not, there is an 82% chance of the rate cut coming at the December Fed meeting. But if the Fed does indeed cut rates in October, then rates markets are pricing in only a 25% chance of another 25-bps rate cut by the end of the year.