Yield Curve Inverted Even More. Is It Finally Time For Buying Gold?
Chart 3: Yield curve (green line, left axis, spread between 10-year and 3-month Treasuries, in %) and the index of expected change in real income during the next year (red line, right axis) from January 2000 to January 2019.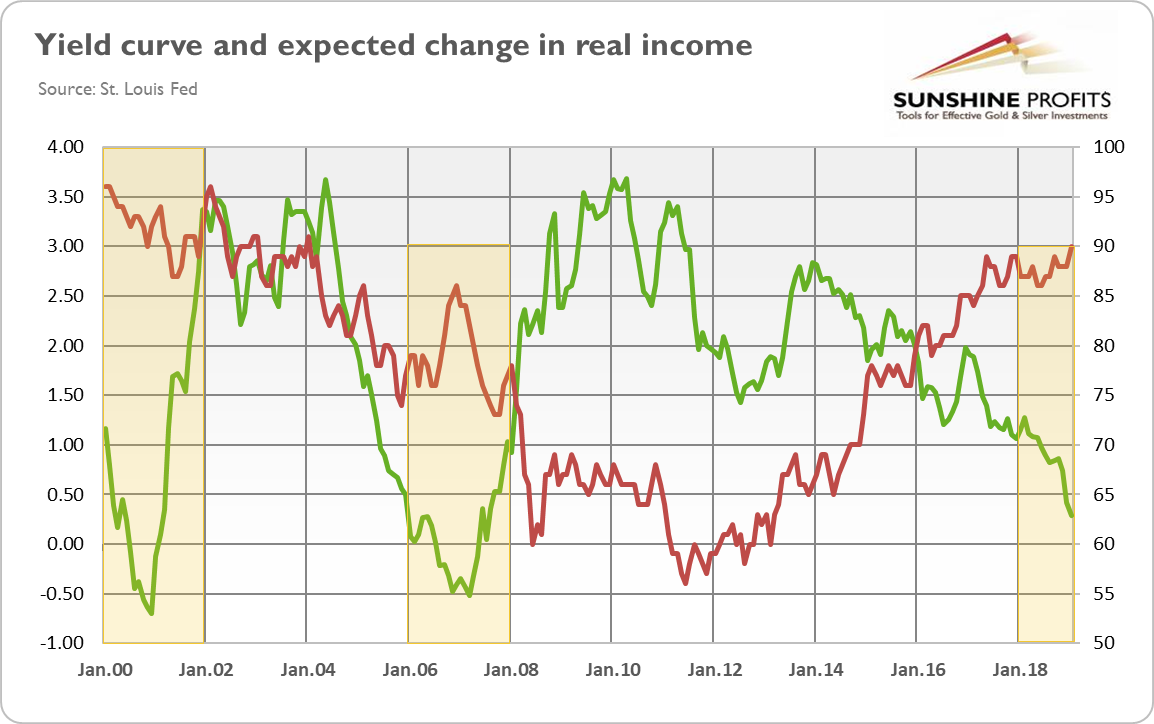 As one can see, after the previous yield curve inversion and right before the Great Recession, the index fell sharply. Now, the index has recently increased to the highest level since 2002. Our point is that, of course, we see some signs of weakness in the US economy, but not as many as in 2007/2008. It means that the recent yield curve is a disturbing signal, but it does not have to be the right signal.
Implications for Gold
The yield curve inversion and the heightened recession fears may support the gold prices. However, as the chart below shows, gold's reaction has been hardly euphoric so far.
Chart 4. Gold price from March 26 to March 28, 2019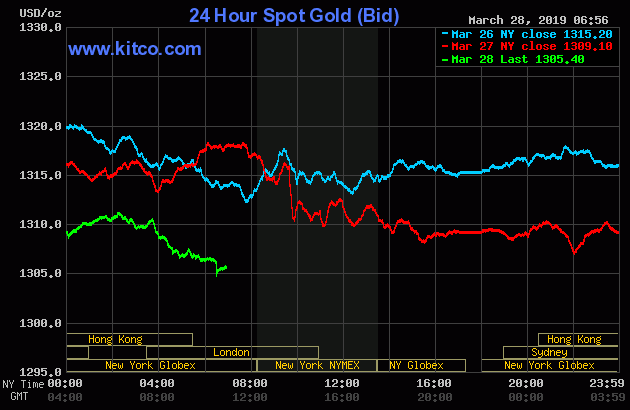 One reason might be that the recession may rear its ugly head rather in the Eurozone than in the US. Yesterday, Mario Draghi said that the European Central Bank could further delay an interest rate hike and look at measures to mitigate the side-effects of negative interest rates. So, the US dollar may remain the number one choice among investors, creating a downward pressure on the gold prices.
Another issue is the reason why the yield curve inverted. It did not happen because the Fed tried to stop the overheating of the economy and prevent the rise of inflation. Not at all, the US central bank is far from wanting to kill the expansion. It's rather reloading the chamber so as to have standard monetary tools available with which to fight the next crisis when it appears. So it is not the case that the short-term borrowing costs have increased abruptly, hitting the entrepreneurs who have to scramble now for liquidity. No, as the chart below clearly shows, the yield curve inverted because the long-term bonds yield declined, which means that the market expects interest rates in ten years to be lower than they are at present.
If you enjoyed the above analysis and would you like to know more about the most important macroeconomic factors influencing the U.S. dollar value and the price of gold, we invite you to read the ...
more