Yield Curve Inversion Can Cause A Crisis Through Reflexivity
The top chart below shows the banks that would tighten lending standards because of an inversion.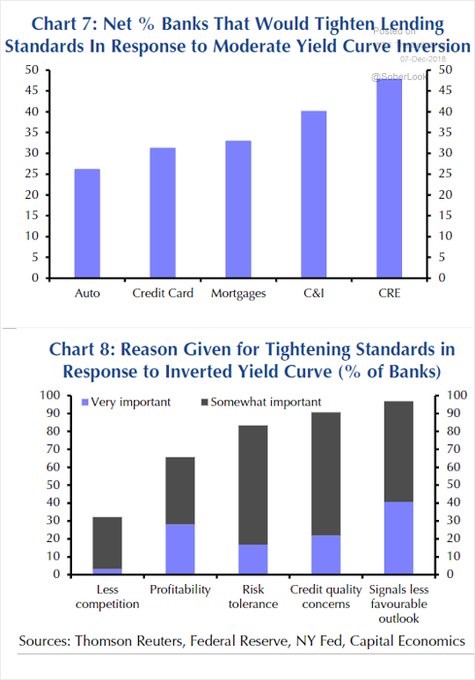 Source: Capital Economics
The bottom chart above shows the reasons banks gave for tightening standards. Both profitability and the outlook an inversion signals are very important. The outlook is even more important than profitability which means the reflexivity issue is more of a concern than a catalyst which hurts profits. The signal is becoming the catalyst.
Another Recession & Stock Market Indicator
The year over year change in the unemployment rate shows us the momentum of the economy. When the rate increases year over year, it's a good indicator the economy is headed into a recession. As you can see from the chart below, there were two false warnings since the mid-1970s and the double-dip recession in the early 1980s never gave off the warning.

Source: FRED
The indicator moved positive 3 months before the last recession, 2 months before the 2001 recession, and 8 months before the 1990-1991 recession.
This indicator doesn't give us much warning time prior to recessions which is why we need to watch out for it before it becomes positive. Currently, it is down 9.8% year over year as the unemployment rate of 3.671% is the lowest since December 1969. It would need to rise above 4.1% in March for it to signal an incoming recession. The economy is in the clear for now, but the rate is historically low. There's not much room for it to fall, but there's a lot more room for it to rise.
-9.8% Returns Per Year Coming?
Because a low unemployment rate means there's not much room to expand and a lot of room to contract, stocks do terribly in this scenario. The chart below combines the CAPE ratio with the unemployment rate.

Source: Pension Partners
Historically, individually, a high CAPE ratio and low unemployment rate are bad for returns. Therefore, it's not surprising that when you combine them, the returns are terrible. The current CAPE ratio is 29.37. When the CAPE is above 25 and the unemployment rate is in between 2.5% and 4.4%, 2 year annualized returns are -9.8%. The returns are negative every period up until 5 years. Even 7 year returns are only 2% per year. This confirms our recent article examining 5 year S&P 500 returns.
Disclaimer: Please familiarize yourself with our full disclaimer here.