Yen, US Dollar Rise As Market Mood Sours Despite China Stimulus
The sentiment-geared Australian, Canadian and New Zealand Dollars sank alongside US stock index futures in Asia Pacific trade, seemingly ignoring gains on most local bourses. They traded higher after the PBOC dialed up monetary stimulus with a record-setting liquidity injection of CNY380 billion.
Broader financial seemed unconvinced, however. The Japanese Yen – a standby regional anti-risk outlet –outperformed against its G10 FX counterparts. The US Dollar also traded broadly higher, with traders apparently rediscovering the benchmark unit's haven appeal.
Global slowdown fears seem to be a major contributor poisoning investors' mood. That's after the White House downgraded projections to say that the ongoing US government shutdown will cost 0.13 percentage points of quarterly GDP growth per week.
Possible signs of escalation in the US-China trade war probably compounded negativity. Chinese technology giant Huawei was reported to be the subject of a US industrial espionage probe. Intellectual property theft is a major US gripe with China, making the move appear like something of a negotiating tactic.
Bellwether S&P 500 futures are pointing convincingly lower, hinting the risk-off moves defining major currencies in APAC hours have scope for follow-through. Traders would be wise to proceed with caution, however. Sensitivity to headline risk remains unusually high, warning of seesaw volatility.
ASIA PACIFIC TRADING SESSION
(Click on image to enlarge)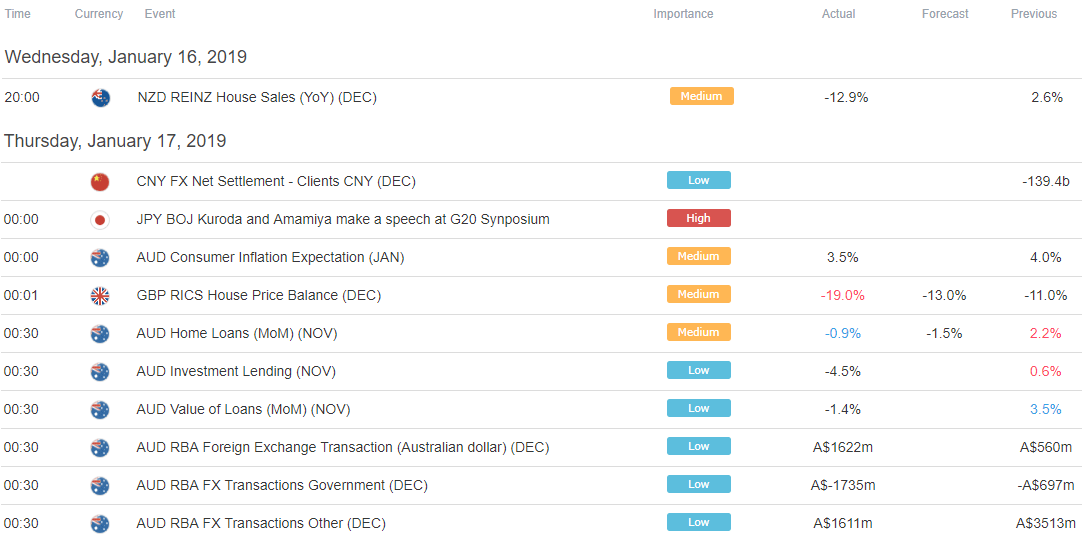 EUROPEAN TRADING SESSION
(Click on image to enlarge)