Xi's Big Mistake
The China social credit system is a broad regulatory framework, intended to report on the "trustworthiness" of individuals, corporations, and governmental entities across China.
The consequences of a poor social credit score can be serious. It affects travel prospects, employment, banking access, and ability to enter contracts. On the other hand, a positive credit score can make a range of business transactions easier for both individuals and corporations. Foreign businesses have to work with consultants to make sure they have good social credit scores, and the CCP dictates what that means. It is the ultimate top-down centralist panopticon.
As mentioned at the beginning, many Chinese are quite entrepreneurial, given the opportunity. That being said, entrepreneurialism is not a racial characteristic. There is something in an entrepreneur that makes them want to start their own business or enterprise. A willingness to take risk is obviously part of that DNA. The United States is extraordinarily lucky in that we attracted people who were willing to take risks simply to come here.
I may not understand the Chinese mindset, but I think I have a pretty good grasp of the entrepreneurial mindset. Successful entrepreneurs don't fit into a mold. You can see why some entrepreneurs thrive and you have to scratch your head to figure out how others did it. Some work well within their system. Others simply create new territory and methods.
Xi is going to deprive China of that second set of entrepreneurs, those willing to create something entirely new that might not fit well within the current social credit system. I think the growing Big Brother state will stifle innovation. Who wants to risk their social credit score? It is one thing to risk your reputation and capital, and another to risk your ability to live and work.
China's panopticon blocks that risk-taking impulse. The consequences will accumulate and reduce growth. And with over half the country still living in extreme poverty, that doesn't bode well for the future.
Further, China has a serious demographic problem. The one-child policy instituted in 1980 really kicked in around 1990, as you can see in the population pyramid below.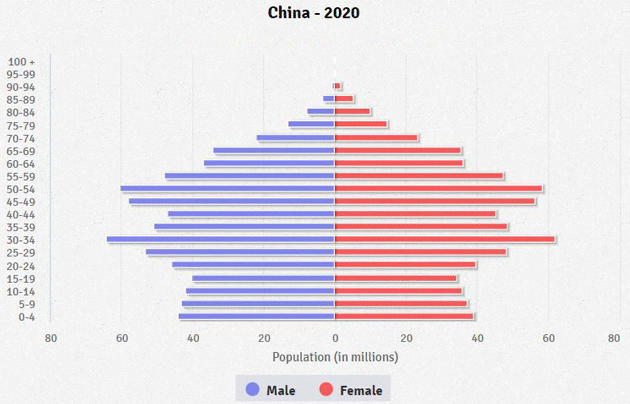 Source: Index Mundi
Normally, population pyramids are actual pyramids. Let's look at India as an example. This is a population pyramid.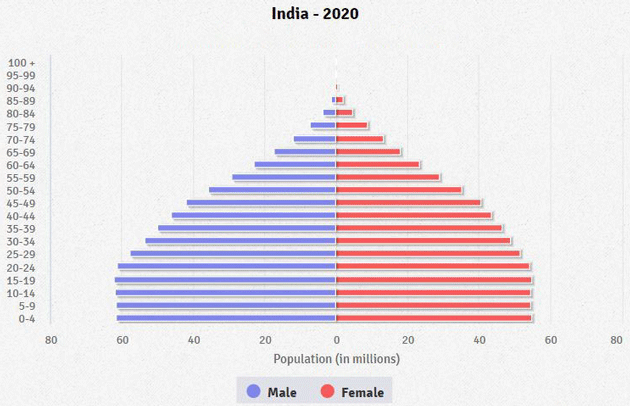 Source: Index Mundi
While we are on this, let's look at Japan:
Source: Index Mundi
Japan has similar demographic characteristics to China, but with one huge difference. Japan grew rich while it grew older. China has grown older before growing rich.
All countries have problems, but even with all its impressive growth and infrastructure, China has more. Which to me makes it more dangerous.
The SEC is correctly insisting on audits for Chinese companies listed on US exchanges. I personally think we should ban new Chinese listings unless they agree to US audit standards. Kicking out currently-listed Chinese companies will be trickier, as US investors don't actually own the shares many think they do. We don't want to blow a $2 trillion hole into US investor assets.
US corporations need to rethink how they approach China. For some, there will be few issues. For others? Real problems.
This week the Biden administration warned US companies about doing business in Hong Kong. China has essentially removed the rule of law that enabled Hong Kong's financial activity. The US advisory reportedly cites the risks of electronic surveillance and having to surrender corporate and customer data to the government.
Xi apparently thinks that it is time to forgo access to the US markets. Maybe he thinks Chinese companies can list in Hong Kong and Westerners will still invest. Maybe. Then again, maybe not.
Rule of law should be critical to any right-thinking investor. When the CCP can nudge an auditor to give a thumbs-up or thumbs-down based on some concept of social credit, how can you trust their assurances? Will that happen often? We don't know. But we know it's possible.
I'm not saying avoid China entirely, as there are still opportunities. But you should have your eyes wide open and understand the risks. I would prefer China-exposed US or other Western companies that give you real audits and normal shareholder rights.
China is going to be a massive headache for the world over the next few decades.
Disclaimer:The Mauldin Economics website, Yield Shark, Thoughts from the Frontline, Patrick Cox's Tech Digest, Outside the Box, Over My Shoulder, World Money Analyst, Street Freak, Just One ...
more