With Price Surge, Analysts Hope For Higher Oil Prices In 2018
For today's bulletin, we take a look at our leader in the oil industry in terms of short-term forecast return, Braskem SA (BAK). Braskem is the largest petrochemical operation in Latin America and among the five largest private companies in Brazil. With industrial facilities located in Alagoas, Bahia, Sao Paulo and Rio Grande do Sul, Braskem produces primary base petrochemicals such as ethylene, propylene, benzene, caprolactam, DMT and termoplastic resins (polypropylene, polyethylene, PVC and PET) gas and GLP.

ValuEngine continues its STRONG BUY recommendation on Braskem SA for 2018-01-09. Based on the information we have gathered and our resulting research, we feel that Braskem SA has the probability to OUTPERFORM average market performance for the next year. The company exhibits ATTRACTIVE P/E Ratio and Company Size.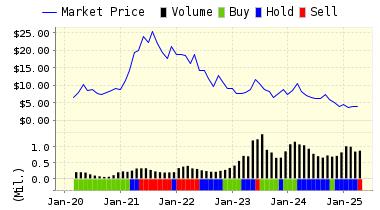 ValuEngine Forecast

Target
Price*

Expected
Return

1-Month

28.57
1.21%

3-Month

29.35
3.98%

6-Month

30.45
7.85%

1-Year

32.35
14.60%

2-Year

40.33
42.87%

3-Year

45.51
61.21%
Valuation & Rankings

Valuation

86.42% overvalued

Valuation Rank

3

1-M Forecast Return

1.21%

1-M Forecast Return Rank

100

12-M Return

28.85%

Momentum Rank

72

Sharpe Ratio

0.31

Sharpe Ratio Rank

64

5-Y Avg Annual Return

13.53%

5-Y Avg Annual Rtn Rank

76

Volatility

43.58%

Volatility Rank

38

Expected EPS Growth

-40.09%

EPS Growth Rank

5

Market Cap (billions)

11.25

Size Rank

89

Trailing P/E Ratio

6.43

Trailing P/E Rank

98

Forward P/E Ratio

10.73

Forward P/E Ratio Rank

82

PEG Ratio

n/a

PEG Ratio Rank

n/a

Price/Sales

0.75

Price/Sales Rank

78

Market/Book

8.36

Market/Book Rank

19

Beta

1.13

Beta Rank

32

Alpha

0.01

Alpha Rank

61