With Latest Data, Investors Again Compare Synergy To The Billion-Dollar Ironwood Pharma
Synergy Pharmaceuticals (SGYP) is getting some much-needed love with phase 2 data, presented at a medical meeting on Monday, for the company's lead drug candidate, plecanatide in Irritable Bowel Syndrome (IBS-C). Plecanatide is already in phase 3 trials for the treatment of Chronic Constipation, and a large phase 3 IBS-C program is set to start by the end of 2014, according to the company.
Synergy presented detailed results from the phase 2b plecanatide IBS-C trial at the American College of Gastroenterology's 2014 Annual Scientific Meeting on Monday. The company released top-line results in April of this year, but this is the first detailed look at the data.
Investors like to compare developmental drugs to existing/competing products in order to gauge potential. Ironwood Pharmaceuticals (IRWD) and partner Forest Labs, of Actavis (ACT), are already on the market with a similar product called Linzess. Both drugs are guanylate cyclase-C agonists, though Synergy's product may have some tolerability improvements. Analysts project peak Linzess sales of over $1 billion dollars. Lionesses did $62.7 million in the second quarter of 2014.
Two data points of note with the latest data, available here:
The trial demonstrated that 41.9% and 40% of patients receiving 3mg and 9mgs of plecanatide, respectively, were Overall Responders under FDA criteria. Only 24.7% of patients receiving placebo (p<0.05) met this criteria.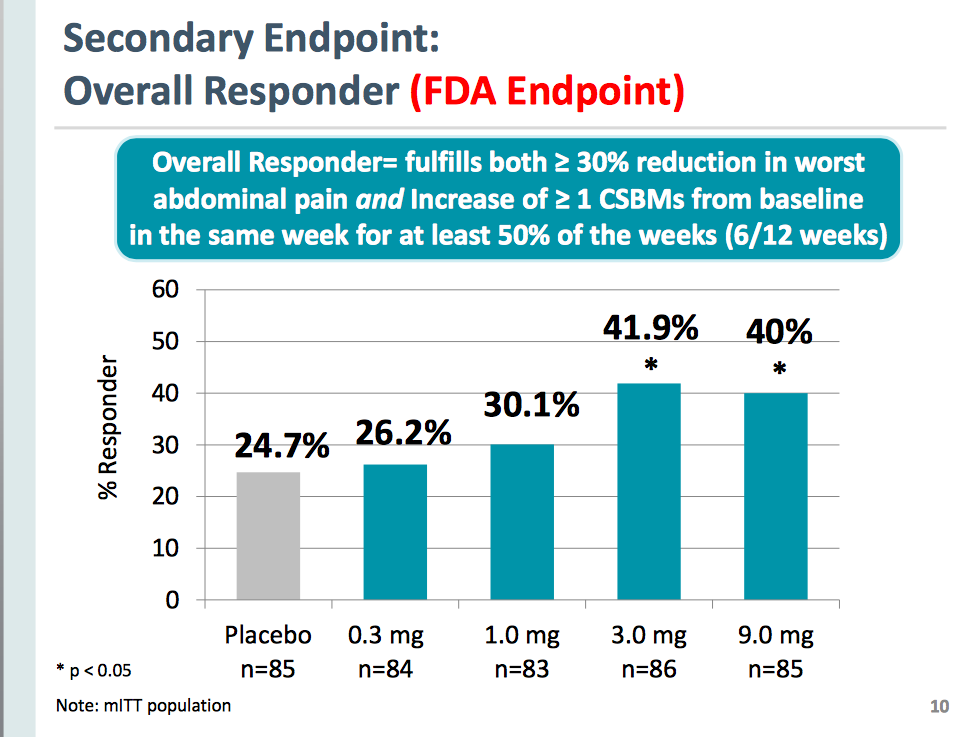 Under the FDA's definition of an Overall Responder, a patient must show a ≥30% reduction in worst abdominal pain and an increase of ≥1 complete spontaneous bowel movements (CSBMs) from baseline in the same week, for at least 6 of 12 weeks.
This also compares favorably to about 34% of patients responding to Linzess in Ironwood's phase 3 trials.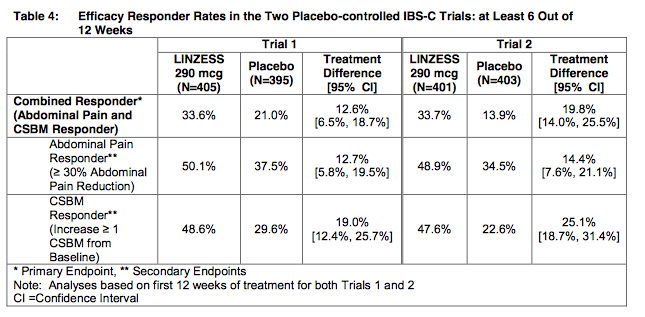 Plecanatide's key differentiating feature when compared to Linzess is a lower rate of diarrhea. In this IBS-C trial, and consistent with previous constipation trials, around 10% of patients presented with diarrhea; twice that, about 20%, of patients taking Linzess present with diarrhea.
Use of PropThink's research is at your own risk. You should do your own research and due diligence before making any investment decision with respect to securities covered herein. You should ...
more