Will The Stock Market Crash In 2019?
CORPORATE DEBT CONTINUES TO CLIMB EVEN AS RATES RISE
(Click on image to enlarge)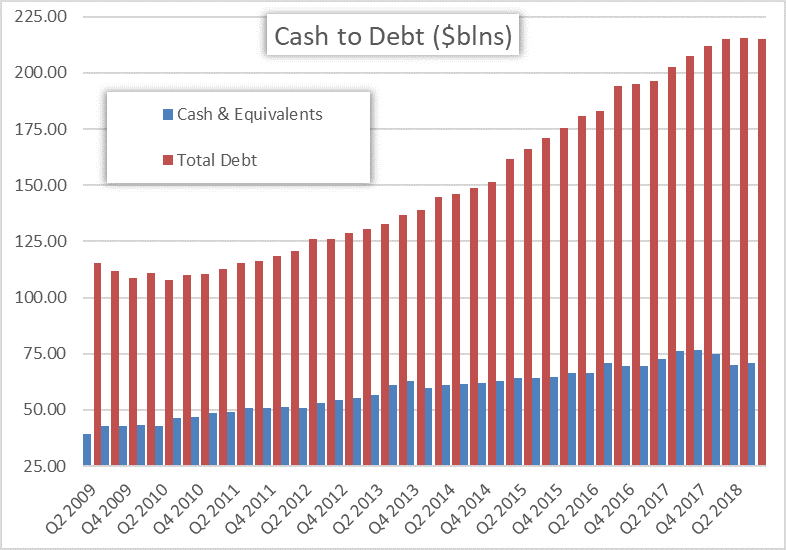 Source: BEA
Consequently, the impact of a more expensive Dollar would pressure emerging markets and hamper US exports. Once combined the two factors would exert significant downward pressure on the global growth outlook which many, including International Monetary Fund Chairwoman Christine Lagarde, have already called into question.
Our first quarter forecasts for equities and the major currencies will be released soon. In the meantime, catch the tail end of fourth quarter forecasts.
Given the warnings from the Federal Reserve and economists like Ms. Lagarde, it seems a culmination of factors pose risk to the US economy and the equity markets within. A bleak outlook for global growth and equity growth have weighed on sentiment and a continuation of the recent declines seems likely at this time.
A sustained decline could be amplified by contagion as investors attempt to get out before losses mount. In turn, a complete risk-off attitude could pull the bottom out from underneath the S&P 500 and result in a crash. While the timing and depth of any upcoming crash are unknown, it is important to be prepared for any eventuality. An adequately hedged portfolio can limit losses and even generate profit in the event of a serious downturn. Similarly, bear markets can provide lucrative opportunities for traders with the right strategy and skill set.