Will The Stock Market Crash In 2019?
At the top of the list, a US-China trade war resolution would drive markets higher. A conclusion to the economic battle would increase trade, reduce costs to manufacturers and consumers and generate positive sentiment. Growth forecasts would be revised upward, and global equities would likely enjoy a rally on return to the status quo. But any resolution seems far off at this time and may not occur before the S&P 500 breaks down completely.
ROBUST CONSUMER SPENDING COULD KEEP GROWTH AFLOAT
(Click on image to enlarge)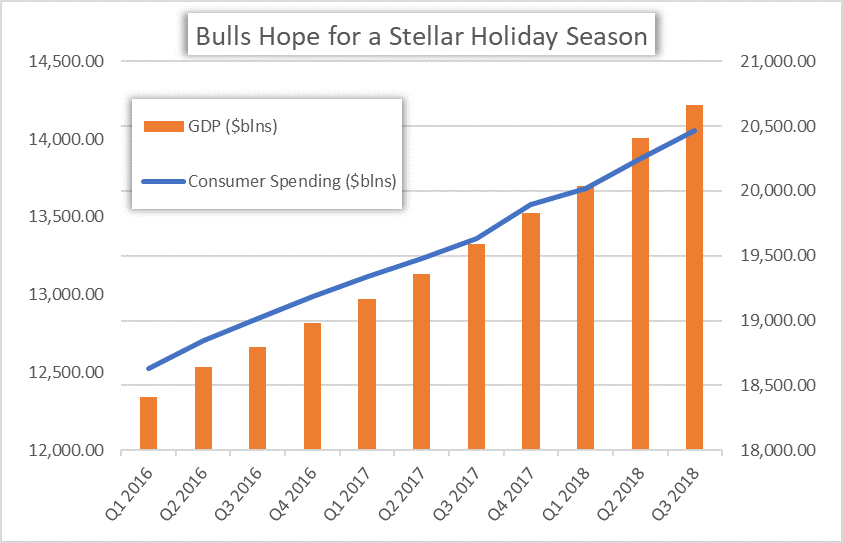 Source: BEA
A more immediate reason for optimism may be robust consumer spending. Months of record low unemployment and steady wage growth will likely result in a stellar holiday season for retailers and the data could impact sentiment. Materially, holiday sales will come into play during earnings season and if the market enjoys a string of strong performances, it could generate some buoyancy for equity markets over the longer term. Yet many remain unconvinced there is anything that could reverse the course equities are on after the inversion of the yield curve.
BUBBLE, CRASH OR SLOW DECLINE?
Whether there is room for bulls to run or not, it is important to explore the possibility of a substantial or sustained decline regardless. To get a sense of what may occur, historic economic events like the Great Financial Crisis (GFC) can give a glimpse of things to be wary of.
With the gift of hindsight, the GFC seems like an obvious bubble waiting to pop. Unfortunately for current investors bubbles are rarely witnessed by the broader market until after they pop, apart from Bitcoin perhaps. Another difference between the current economic climate and the previous is the state of commercial banks. The Fed has reviewed the largest US lenders and imposed stress tests to ensure a crisis like 2007 does not happen twice.
With that in mind, the Fed's Financial Stability Report did highlight elevated levels of corporate debt. While some speculators believe corporate debt is currently in a bubble, detractors believe interest rates would need to rise further before the pressure of interest payments become too burdensome for corporations to repay. Recently Fed officials have stepped back from their hawkish stance and for some, the case for rate hikes in 2019 is weakened. While hike expectations have slipped, it is widely believed two increases in the year ahead remain in the cards.