Will The Stock Market Crash In 2019?
UNITED STATES GDP IS PROJECTED TO OUTPACE OTHER DEVELOPED ECONOMIES
(Click on image to enlarge)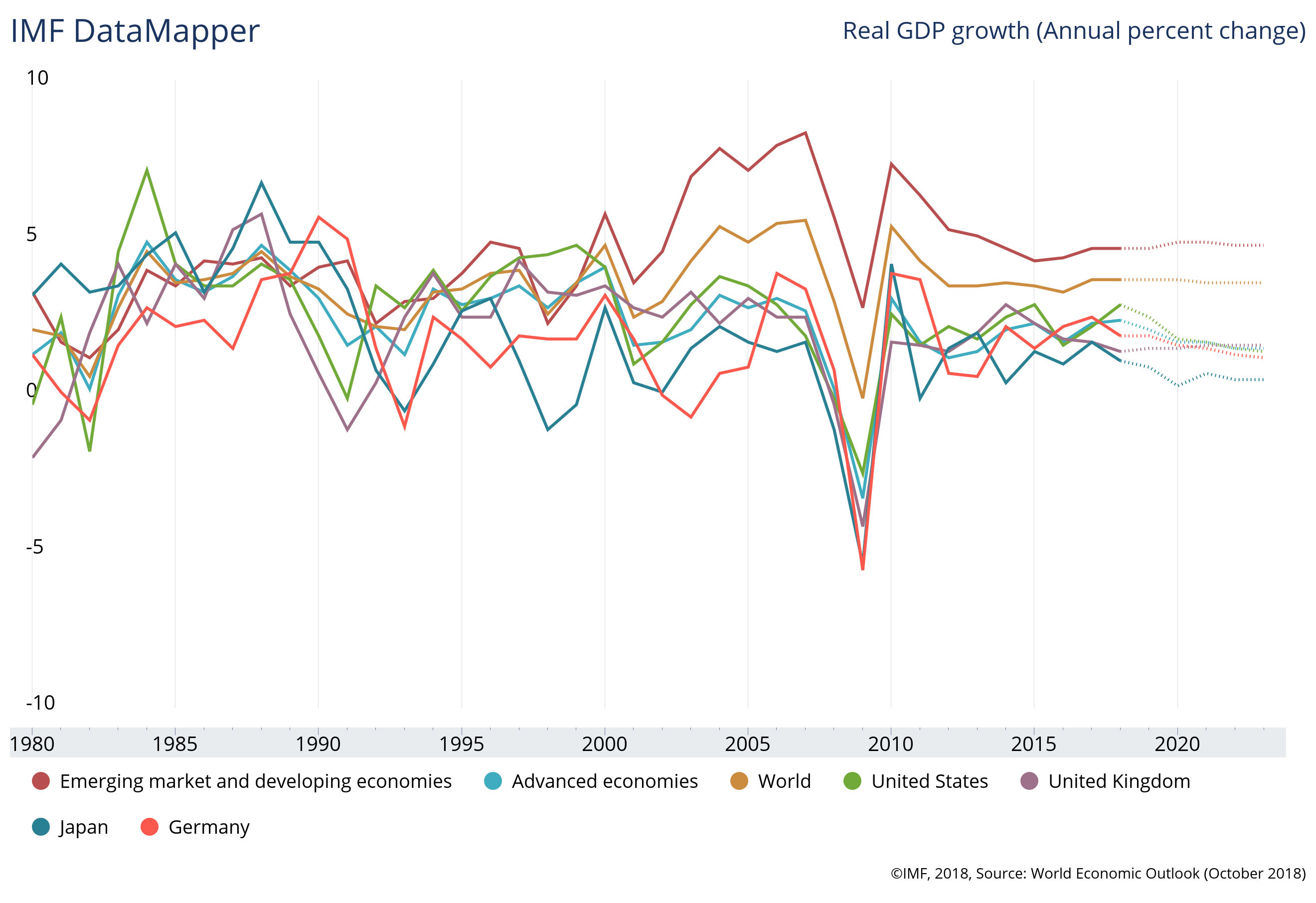 The projections increased revenue outlooks for many US firms and share prices subsequently demanded a premium to account for future growth which further inflated the S&P 500's market capitalization. While growth forecasts in foreign developed economies slipped in comparison, intangible threats to those same economies arose.
Many of these threats are ongoing and many show no immediate path to resolution. At the forefront, Brexit jolted the European Union and corresponding growth forecasts. Uncertainty remains as the exit is still ongoing. As the exact terms of the new relationship between the United Kingdom and the European Union are unknown, growth forecasts, currency valuations, and stock market valuations are all discounted.
On a broader basis, Brexit has ignited concern about the integrity of the entire Union. Recent Italian budgetary issues between Rome and Brussels have exacerbated this concern after a few Italian officials suggested they had no intention to abide by the limitations levied from Brussels. Further still, budgetary concerns have spread to France. After a series of concessions to protestors, French President Emmanuel Macron has veered the second largest economy in the European Union into a red area and will surely face warnings from Brussels.
In total, Europe has three of its four largest economies in a gray area of uncertainty or in breach of regional laws. To compound this, the overall integrity of the European Union has been called into question. It is no wonder why a regional economic powerhouse like Germany, with few issues of its own, would fall behind the S&P 500 which has enjoyed relative stability.
HAS THE BULL MARKET RUN ITS COURSE?
While the United States may enjoy stability at present, the lack of a bad thing does not constitute a good thing. As reasons for continued growth seem limited, many economists have issued warnings of an imminent downturn. Still, there are a few factors that could keep us afloat in the short-term.