Will Housing & Economy Recover In 2019?
The housing market can recover in 2019 because 30 year mortgage rates have fallen from 4.94% in November to 4.45%. Furthermore, the labor market is still strong and real wage growth has increased. The best solution for unaffordable housing prices is slowing price growth. Since there wasn't a recession, slowing price growth, strong wage growth, and declining interest rates could be enough to turn housing around. Plus, the Fed is pausing its rate hikes.
Improvements were notable in the MBA mortgage applications index from the week of January 11th. The composite index was up 13.5% week over week. That follows a 23.5% increase. The purchase index has been up 17% and 9% in the past two weeks, and the refinance index was up 35% and 19%. Seasonally adjusted mortgage applications reached the highest level since April 2010; unadjusted applications were up 11% year over year. Refinancing applications reached the highest level since March 2018.
Start Of Corrections
The housing data in late 2018 wasn't good. Don't let our suggestion that the housing market could improve in 2019 confuse you about the bad November and December data. According to John Burns Real Estate, sales of newly built homes fell 19% year over year in November and 18% in December. Entry-level buyers' cancellation rate was 18% in December.
Furthermore, according to the National Association of Realtors, December existing home sales fell 6.4% monthly and 10.3% yearly. Median home prices fell 1.4% monthly to $253,600 and were up 2.9% yearly. It's important to keep in mind the existing home market is much bigger than new home sales. Single-family existing sales were down 5.5% and condo sales were down 12.9%. The Midwest was the worst region as it had a 11.2% decline, and the West was the best as it fell 1.9%.
The chart below shows examples of housing price corrections in various developed markets.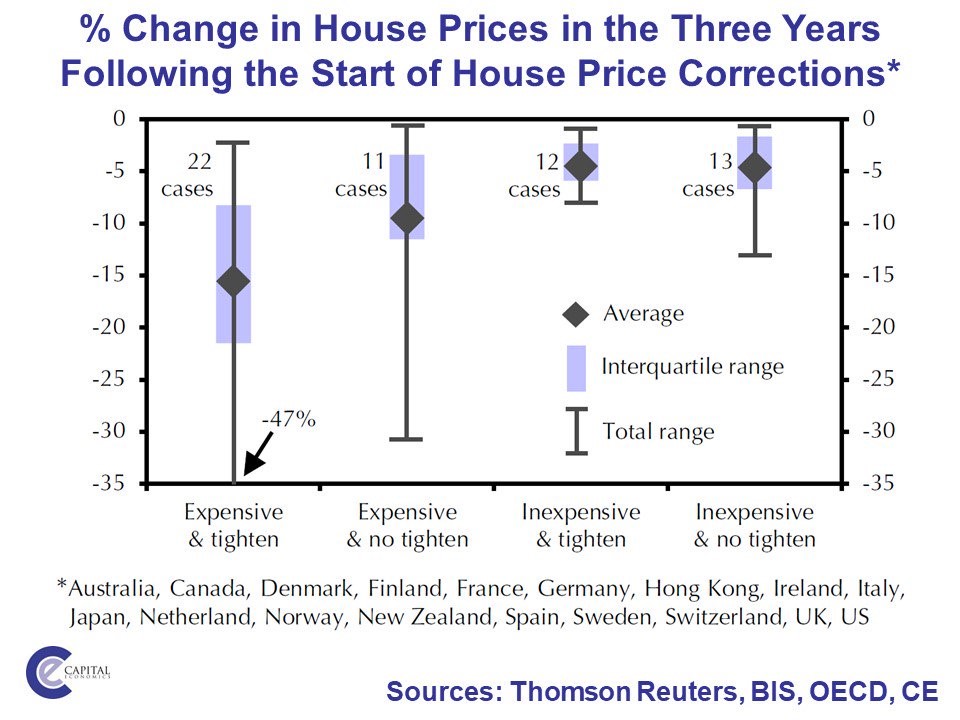 Source: Capital Economics
The worst case scenario is when the housing market is expensive and the central bank tightens. It seems like the Fed won't be tightening in 2019 based on the futures market; although the Fed has guidance for 2 hikes this year. Whether the housing market is expensive depends on the location. Therefore, the two possible scenarios could be "expensive & no tighten" and "inexpensive & no tighten." As we mentioned, there may not be a continued correction as activity has rebounded in early January.
Disclaimer: Please familiarize yourself with our full disclaimer here.