Will Housing & Economy Recover In 2019?
It's important to point out that the huge rally in the first 3 weeks of January probably is because some managers have become optimistic. Plus, the rally has probably caused other managers to become bullish. This change could imply the strength in the economy percentage will increase. This could be like in 2006 where managers got too bearish and were simply too early.
Housing Weakness: Could It Reverse?
The housing market didn't have a great 2018 because of rising interest rates and a lack of affordability. A potential catalyst for an economic growth turnaround in 2019 could be the housing market. Some investors see this as a possibility as the XHB homebuilders ETF increased 14.77% from the Christmas Eve low to January 18th. That would be a big reversal from the weakness seen in the last 2 months of 2018.
The latest data from Redfin in December shows median home prices grew 1.2% to $289,800 as you can see in the chart below. That's the weakest growth since March 2012. Sales fell 11% which is the worst decline since 2016. Prices fell 7.3% in San Jose. The areas that were once hot are beginning to cool off. Prices in Boston fell 1%; Northeastern cities didn't have as big of a price increase this cycle as many cities in the West did.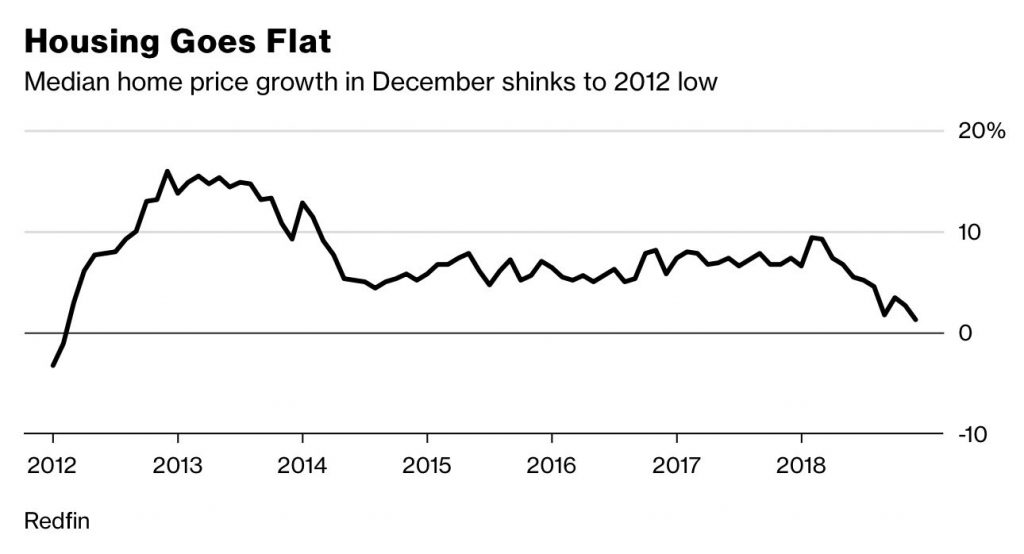 Source: Bloomberg
The homebuilder index was weak, but it showed modest improvement sequentially. A weak report at the cycle bottom which shows improvement is the best possible report in rate of change terms. To be clear, the improvement in the January housing market index from 56 to 58 isn't enough to call a bottom. As the chart below shows, the current weakness in housing could lead to consumer spending weakness. Any improvement in housing would transform this leading indicator to a positive.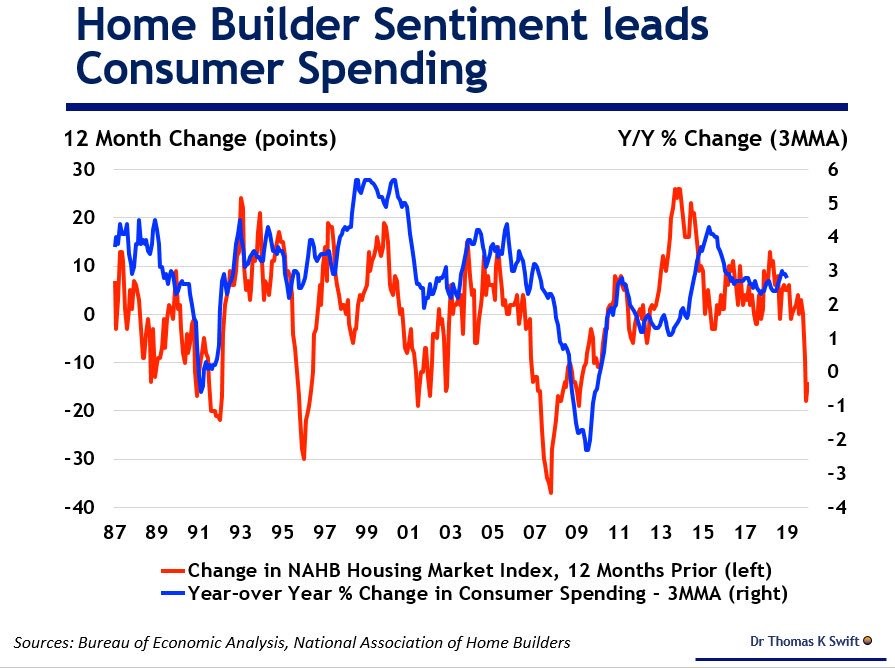 Source: Dr. Thomas K Swift
The increase in the housing market index is the first increase since October and the 2nd increase since May 2018. Specifically, the 6 month sales forecast index increased 3 points to 64. The current sales index increased 2 points to 63. Finally, the traffic index was up 1 point to 44 which is very weak. The West was the strongest index as it was up 5 points to 70. The South, Midwest, and Northeast were at 61,49, and 48. Below 50 is contraction.
Disclaimer: Please familiarize yourself with our full disclaimer here.