Will Housing & Economy Recover In 2019?
It's not just consumer sentiment that declined in early January. Fund managers also became very bearish. The stock market, a leading indicator, began pricing in the risk of a recession in late 2018. However, as it is with all recessions, we only become aware of them in hindsight. It would be easier to say for certain a recession didn't start in late 2018 if we had the economic data that has been delayed because of the government shutdown, but there's still enough information to say it's highly unlikely. For example, the December industrial production report was strong. In the week of January 12th, jobless claims were 213,000 which is only 11,000 above the cycle trough. That's nowhere close to a recessionary reading.
In a previous article, we used the low forward PE multiple, which quickly increased in January, to show a recession was expected for a short time. Now we have the survey below which shows fund managers were very pessimistic in early January.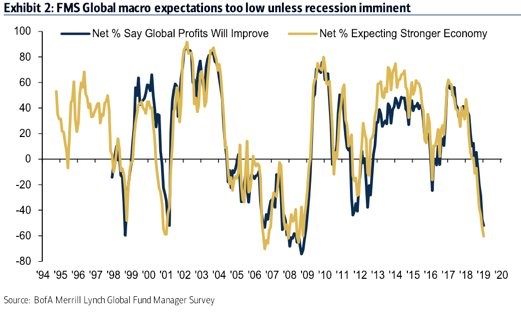 Source: Merrill Lynch
60% of fund managers expected profits and growth to slow in the next year. That's worse than the trough in 2001 when there was a recession. It's the worst reading since July 2008 which means it's worse than the prior 2 slowdowns.
Inflection Point Of What Type?
The fund manager survey below shows the percentage saying they expect a steeper yield curve and the percentage saying they expect a stronger economy.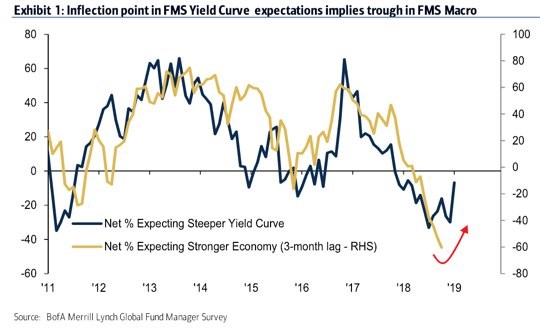 Source: Merrill Lynch
The percentage expecting a steeper yield curve has started to increase. Either this is another example of investors expecting a stronger economy like in 2017 or this is the end of the cycle where the curve inverts and then there is a recession as the curve steepens. The 10 year yield minus the 2 year yield never inverted last fall. The smallest closing difference between the two yields was 11 basis points in early December. There was an intraday low that got to 9 basis points, but the curve still didn't invert. Some say it doesn't need to invert for there to be a recession as we reviewed previously.
Disclaimer: Please familiarize yourself with our full disclaimer here.