Will Futures Save Gold?
The extreme bearish CoT positions necessarily imply the turning point in the gold market. Myth or fact? We invite you to read our today's article about Comex positioning and find out whether futures will save gold.
Usually, the Comex is seen by precious metals investors as the main public enemy. After all, it's a marketplace for all these short futures which allegedly suppress the gold prices. But now, the gold permabulls use the CoT report as a bullish argument in the discussion on the future of gold.
Why? Let's look at the chart below. As you can see, the speculators (non-commercials) maintain a very small long position, while the commercial traders are unusually close to being neutral. Although both groups have moderated their bets recently, their positioning is still extreme.
(Click on image to enlarge)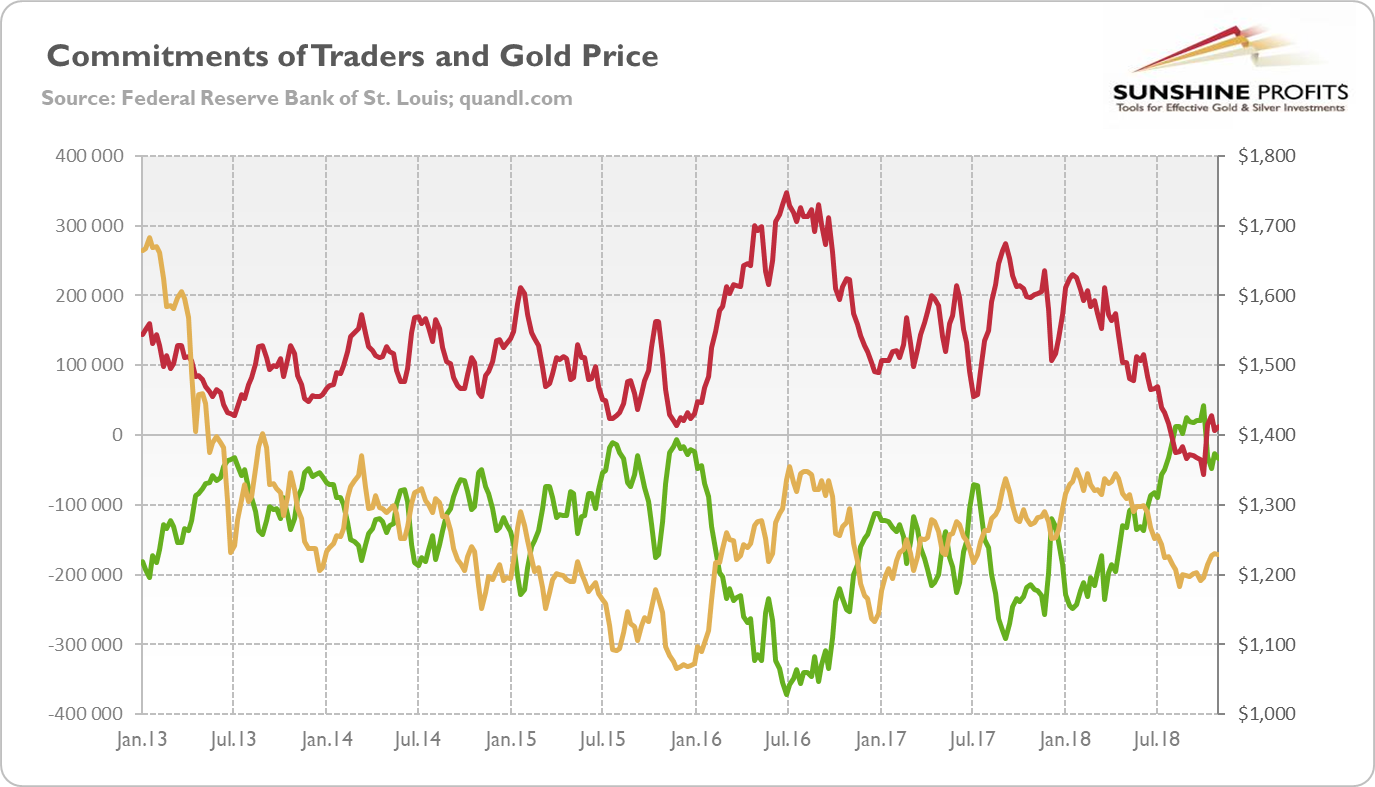 Chart 9: Gold prices (yellow line, right axis, London P.M. fixing, in $), the net position of commercials (green line, left axis) and the net position of non-commercials (red line, left axis) from January 2013 to November 2018 (aggregate version, futures and options combined).
What does it mean? The opinions are divided. Many people point out that speculators are usually most bullish moments prior to significant price tops and most bearish just around the significant price bottoms. Given that speculators are now exceptionally bearish, it might be the case that the price bottom might is close.
Meanwhile, others claim that the current positions are so extreme, that they can't increase further. Based on this, they conclude that because speculators can't become more bearish, the price of gold is unlikely to go south.
But it's a false claim. Speculators can become more bearish as there are no set minimum or maximum levels which cannot be exceeded (without a price reversal). And they did: speculators were consistently net short in the period of 1996-2001, as the chart below shows!
If you enjoyed the above analysis and would you like to know more about the most important macroeconomic factors influencing the U.S. dollar value and the price of gold, we invite you to read the ...
more