Will Fed's Dovish Shift Support Gold?
The wait-and-see approach is not only about the risk-management. Another justification is the weakened case for raising the interest rates due to the lack of inflationary pressures and receded risks of financial imbalances:
In addition, the case for raising rates has weakened somewhat. The traditional case for rate increases is to protect the economy from risks that arise when rates are too low for too long, particularly the risk of too-high inflation. Over the past few months, that risk appears to have diminished.
And What About Balance Sheet Normalization?
The Fed also released a statement on the balance sheet normalization. It indicated it's willingness to adjust the size of its balance-sheet runoff, although it was supposed to work on an autopilot:
The Committee is prepared to adjust any of the details for completing balance sheet normalization in light of economic and financial developments.
Moreover, the Fed announced that it would continue to use administered rates to control the policy rate, with an ample supply of reserves. It means that, as we explained it to our Readers a long time ago, the normalization of the size of the portfolio will be completed sooner, and with a larger balance sheet, than in previous estimates.
Implications for Gold
To sum up, the FOMC was dovish both on the interest rate policy and the balance sheet policy. Although Powell denied that there is a "Powell put", he said everything what the markets wanted to hear. Or, even more, as the FOMC statements and Chair's press conference were actually more dovish than expected. In consequence, the stock markets went up, while the U.S. dollar declined against the euro or the Japanese yen (see the chart below).
Chart 1: USD/JPY exchange rate from January 29 to January 31, 2019.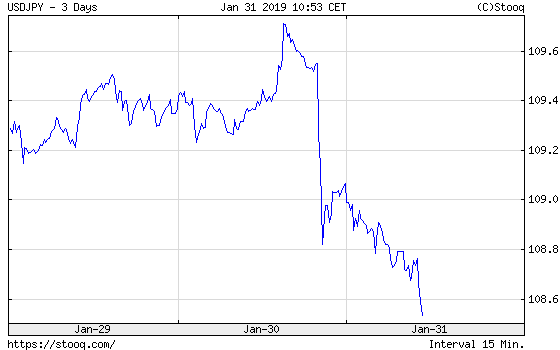 So, the price of gold jumped above $1,300 in the response to the dovish signals from the Fed, as one can see in the chart below.
If you enjoyed the above analysis and would you like to know more about the most important macroeconomic factors influencing the U.S. dollar value and the price of gold, we invite you to read the ...
more