Will Biden Build Back Better… Gold?
New spending is coming! And because of that, Biden's speech to Congress was fundamentally positive for gold.
Last week was full of big events. The FOMC released its newest statement on monetary policy meeting, while Powell held the press conference. On the same day, President Joe Biden made his first speech to Congress. Let's take a look at his words.
First of all, Biden laid out his American Jobs Plan, which proposes more than $2 trillion to upgrade US infrastructure and create millions of jobs. No matter that infrastructure spending has no stimulus effect, according to economic research.
Second, if you think that $2 trillion is a lot of money, given America's huge indebtedness, you are clearly wrong. Two trillion is practically nothing and definitely not enough, so Biden proposed another $1.8 trillion American Family Plan in investments and tax credits to provide lower-income and middle-class families with inexpensive childcare.
Third, Biden understands that all these expenditures cannot be funded solely by increasing already huge fiscal deficits (see the chart below) and issuing new bonds.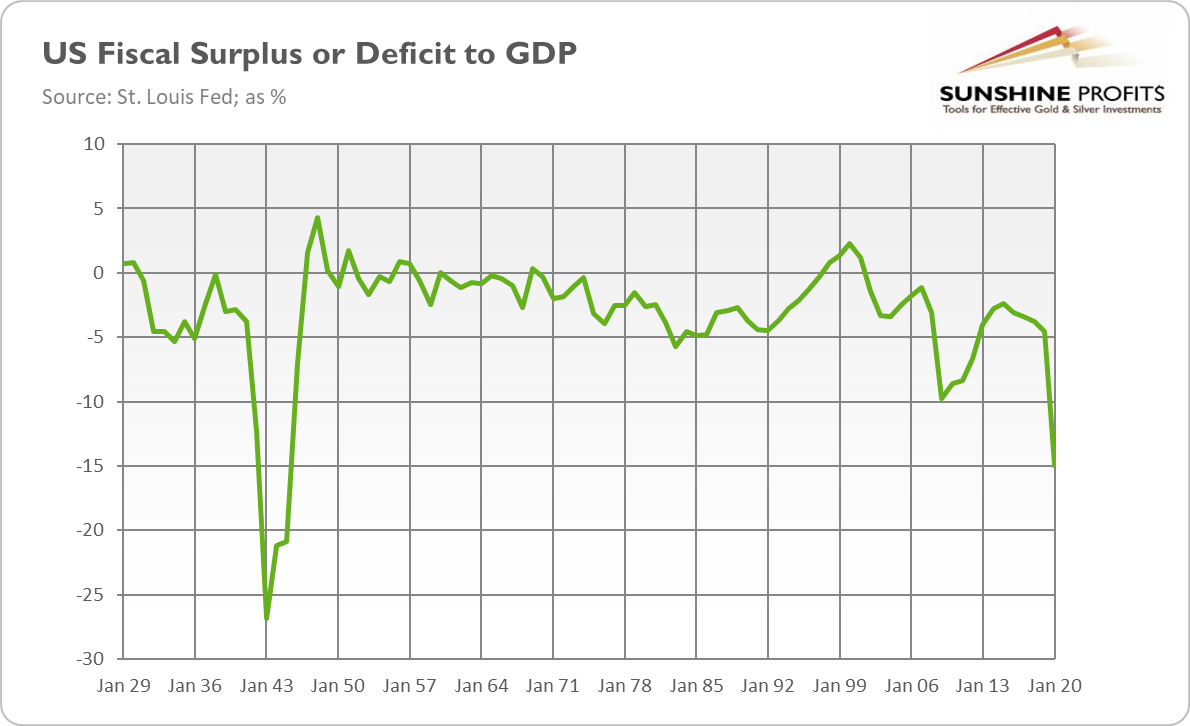 So, he proposed a hike in tax rates:
It's time for corporate America and the wealthiest 1% of Americans to pay their fair share. Just pay their fair share (…) We take the top tax bracket for the wealthiest 1% of Americans –
those making $400,000 or more – back up to 39.6%.
No matter that corporate taxes are implicit taxes on labor and that the current proposals for tax hikes are unlikely to fund the White House's ambitious plans.
Biden also proposed several reforms of the labor market: a 12-week paternal leave for families and an increase of the minimum wage to $15 an hour.
So, in short, his speech called for several bold economic policies aiming to increase government spending and strengthen the American welfare state. Sounds good… for gold.
Disclaimer: Please note that the aim of the above analysis is to discuss the likely long-term impact of the featured phenomenon on the price of gold and this analysis does not indicate (nor does ...
more