Why The Dow Jones Industrial Average Fell Today - November 23, 2015
How Did the Stock Market Do Today?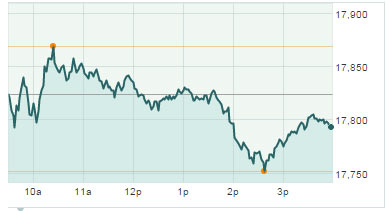 Dow Jones: 17,792.68; -31.13; -0.18%
S&P 500: 2,086.59; -2.58;-0.12%
Nasdaq: 5,102.48; -2.44;-0.05%
The Dow Jones Industrial Average today (Monday) dropped 31 points thanks to a small sell-off in key components like Apple Inc.(Nasdaq: AAPL), Goldman Sachs Group Inc. (NYSE: GS), and Boeing Co. (NYSE:BA). Investors kept an eye on oil prices and reacted to a negative housing report. This morning, the National Association of Realtors announced existing home sales slipped 3.4% in October to a seasonally adjusted annual rate of 5.36 million. The report suggested that would-be buyers are standing on the sidelines and no rush has been seen by housing agents ahead of the Federal Reserve's plan to raise interest rates.
Top Stock Market News Today
Stock Market News: Seven of 10 S&P sectors were in the red, with telecom stocks and utilities stocks showing the steepest declines. Shares of Facebook Inc. (Nasdaq: FB) slipped 0.3% and continued to tick downward in afterhours trading on news the company's CEO Mark Zuckerberg plans to take a paternity leave after his wife gives birth to their first child.
Oil in Focus: Oil prices were up on Monday after a bullish announcement from Saudi Arabia. January WTI prices were flat in the afternoon, trading at $41.89 per barrel. Meanwhile, Brent oil crude – priced in London – added 0.6% to hit $44.11. High-volume stocks Exxon Mobil Corp. (NYSE: XOM) and Chevron Corp. (NYSE: CVX) added 0.7% and 1.1% on the day, respectively. Shares of Kinder Morgan Inc. (NYSE: KMI) were up 1.2%. Today's biggest loser was Crestwood Equity Partners LP (NYSE: CEQP), which saw shares fall by more than 90%.
On Tap Tomorrow: On Tuesday, keep an eye out for an update on third-quarter GDP, a monthly update on international trade, and the October report on consumer confidence. Companies set to report quarterly earnings include HP Inc. (NYSE: HPQ), Tiffany & Co. (NYSE: TIF), Dollar Tree Inc. (Nasdaq: DLTR), DSW Inc. (NYSE: DSW), Seadrill Ltd. (NYSE: SDRL), Guess? Inc. (NYSE: GES), Campbell Soup Co. (NYSE: CPB), Hormel Foods Corp. (NYSE: HRL), and Chico's FAS Inc. (NYSE: CHS).