Why The Dow Jones Industrial Average Fell Today - December 3, 2015
How Did the Stock Market Do Today?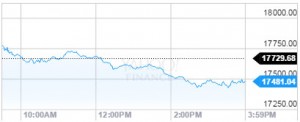 Dow Jones: 17,477.67; -252.01; -1.42%
S&P 500: 2,049.62; -29.89; -1.44%
Nasdaq: 5,037.53; -85.70; -1.67%
The Dow Jones Industrial Average today (Thursday) plunged 252 points after European Central Bank President Mario Draghi surprised the markets by cutting interest rates and boosting stimulus below Wall Street's expectations for the euro bloc's monetary intervention. Meanwhile, U.S. Federal Reserve Chairwoman Janet Yellen offered a statement that hardened analyst expectations for an interest rate hike during the FOMC meeting in two weeks. Here's more coverage on what the ECB decision means for your money.
Top Stock Market News Today
Stock Market News: All 10 S&P sectors were negative today, with healthcare stocks again taking the biggest hit. It was another messy day for biotech giants Pfizer Inc. (NYSE: PFE) and Gilead Sciences Inc. (Nasdaq: GILD), which saw shares fall by 1.6% and 2.9%, respectively. Shares of Valeant Pharmaceuticals International Inc. (NYSE: VRX) were not able to extend their recent rally. VRX stock was off 2.7% on the day. Even though Valeant has rallied back from a massive sell-off, it's still down more than 60% in recent months. Here's why investors should avoid the recent hype.
Monetary Mess: ECB head Mario Draghi announced the central bank planned to extend its stimulus package through mid-2017; however, the news sent the euro up $0.02 against the dollar as traders anticipate the pending FOMC meeting. If the Fed decides to hold off on tightening monetary policy, the dollar will likely experience further weakness against the euro.
Energy in Focus: Oil prices rallied from yesterday's multimonth lows on news Saudi Arabia will look to provide greater stabilization between supply and demand. January contracts for WTI crude settled up 2.9% to hit $41.08 per barrel. Meanwhile, Brent oil crude – priced in London – gained 3.2% to hit $43.84. The news wasn't enough to benefit multinational companies Exxon Mobil Corp. (NYSE: XOM) and Chevron Corp. (NYSE: CVX), which saw their respective shares fall nearly 1.4% and 1.5% on the day. Shares of Kinder Morgan Inc. (NYSE: KMI) hit a 52-week low today, dropping 6.8%. OPEC's meeting is a bigger deal than you might think for energy stocks. Here's why.
On Tap Tomorrow: On Friday, the markets will be 100% focused on reaction to this morning's November unemployment report, released by the U.S. Labor Department. The announcement will play a central role in speculation on whether the Federal Reserve plans to raise rates. Companies set to report quarterly earnings tomorrow include Big Lots Inc. (NYSE: BIG).
Stocks to Watch: FB, BKS, YHOO, BABA, GOOG, ZFGN