Why The Dow Jones Industrial Average Fell Today - December 3, 2015
How Did the Stock Market Do Today?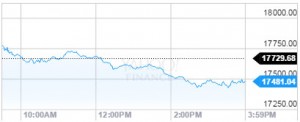 Dow Jones: 17,477.67; -252.01; -1.42%
S&P 500: 2,049.62; -29.89; -1.44%
Nasdaq: 5,037.53; -85.70; -1.67%
The Dow Jones Industrial Average today (Thursday) plunged 252 points after European Central Bank President Mario Draghi surprised the markets by cutting interest rates and boosting stimulus below Wall Street's expectations for the euro bloc's monetary intervention. Meanwhile, U.S. Federal Reserve Chairwoman Janet Yellen offered a statement that hardened analyst expectations for an interest rate hike during the FOMC meeting in two weeks. Here's more coverage on what the ECB decision means for your money.
Top Stock Market News Today